Become a
Groupboss Affiliate

and Start Earning

Join the Groupboss affiliate program and get a 50% commission for each user you refer. There is no limit. This is one of the highest rates in the industry.

Join Groupboss Affiliate Program
How It Works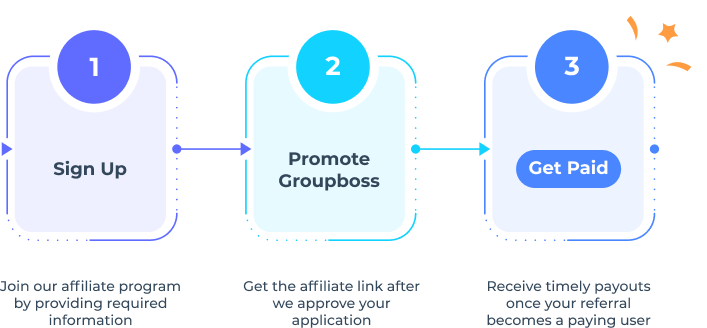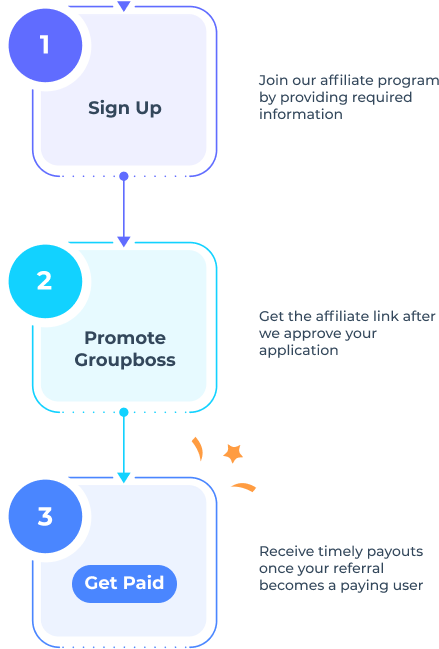 What Makes Groupboss Affiliate Program Awesome?
Making our partnership official is a huge deal, so in return, we'll help with everything you need. You'll get:
No Maximum Limit on Referring or Cashout
There is no limit on the number of people you can refer to Groupboss. There is no maximum limit for cash out.
A Custom Dashboard to Track Progress
Check how your referral strategies are working with a dashboard tracking every click and reward. It's one browser tab we bet you won't be able to resist refreshing.
Handy Resources and Training Materials
Need some quality enablement assets to put your best foot forward? You got it! You can start referring right away with our training and promotional materials.
Frequently asked questions
I have signed up for the Groupboss affiliate program. How can I get the link to promote Groupboss?
After signing up to the program, your application will be reviewed. If you are accepted, you will receive a welcome email, including your unique link to share and information on how to visit your dashboard.
How will my commissions be calculated?
As written above, you will get a 50% commission for each user you refer. Remember, this is not a recurring commission. If a user purchases a yearly plan, you'll get a 50% commission for the first year's subscription payment. You won't be eligible for the second or next onward subscription renewals.
How are my referrals being tracked?
We use cookies to track your referral traffic. The cookies last for 90 days after someone clicks on your link. You'll get 90 days of restarts if they click again.
Please send a mail to "contact@groupboss.io" if you have more queries.