Best Cyber Monday SAAS Deals in 2021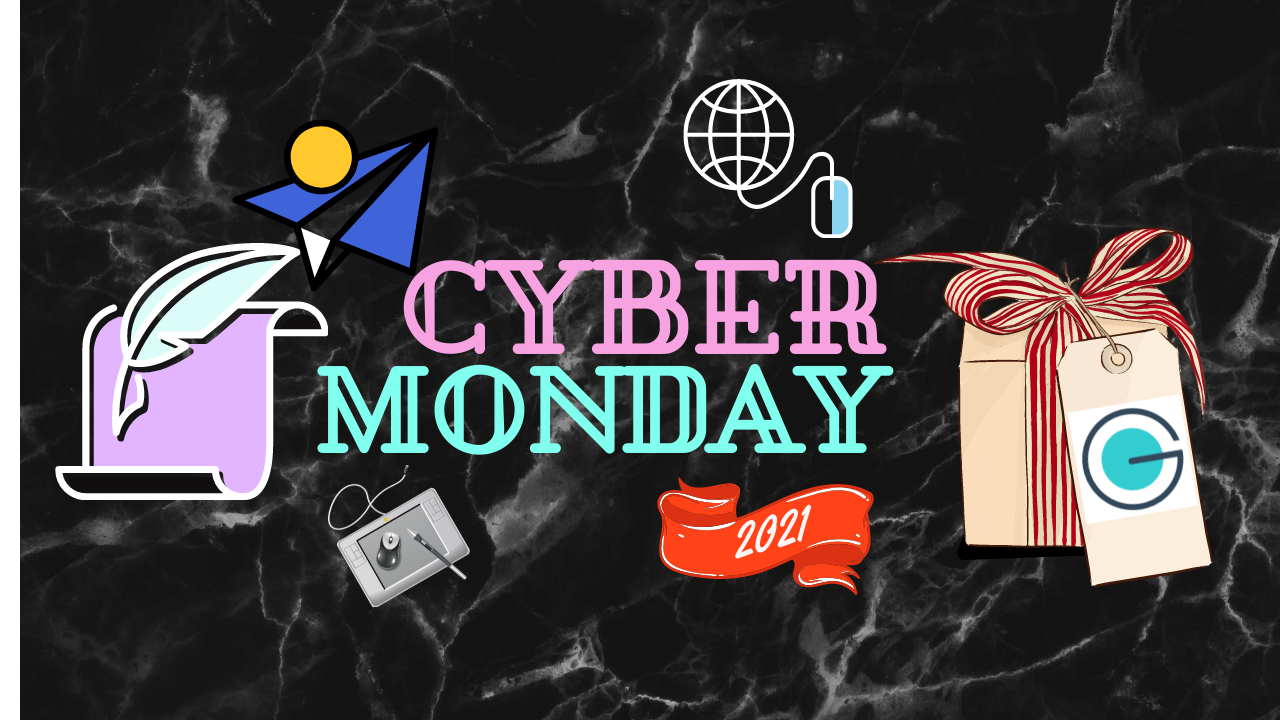 Since its arrival, Cyber Monday has become a sensation whose presence is associated with billions of sales worldwide. In the USA alone, it was estimated a whopping $10.7 billion in online spending on the occasion of Cyber Monday in 2020, which is considered as the biggest online shopping day in U.S. history to date!

That's why Cyber Monday is not just a typical Monday, but it is a global storm of sales in the e-commerce platform and SaaS marketing arena. You can't get it every day, so excitement is at its peak in 2021 as SaaS companies are offering a plethora of breathtaking deals.
This is an article from Groupboss where you can find some of the most exciting SaaS deals in the world.
A complete Guideline:
This article shows offers from different companies whose descriptions are written below their name.
You will get to see the offer right below with the coupon code. Not all deals contain a Coupon Code.
The validity date is the expiration date of the deal.
Claim the delicious offers by clicking on the "Get The Deal" Button.
1. Groupboss
Groupboss is a Facebook group automation software that helps the group owners to generate unlimited leads. Using this tool any group owner will be able to collect the answers to the Facebook group questions asked to the new members with a single click. It has got direct integrations with the popular email marketing autoresponders like Mailchimp, Lemlist,Snov.io, GetResponse Activecampaign, Convertkit, SendFox, Moosend, Mailerlite, Automizy, Sendgrid, Sendinblue, Klaviyo, Hyros(Markethero), Drip and many more integrations will be added soon.
Offer:    Groupboss is offering a 25% discount on all the plans on Cyber Monday.
Coupon: MONDAY25
Validity: 29th Nov, 2021-31 Dec, 2021

2. Receiptmakerly
Receiptmakerly is a premium online receipt maker with 50+ templates that can be customized based on needs. This tool has got cost-effective pricing plan for users with advanced features. Using Receiptsmaker a user will be able to make receipts like Amazon, Uber, Lyft, Ola, etc.

Offer: Receiptmakerly is offering a 25% discount on all plans on the upcoming Cyber Monday.
Coupon: MONDAY25%
Validity:  29th Nov, 2021-31 Dec, 2021

3. Apploye
Apploye is a  time tracking software offering hundreds of features at a sensible price.  It has a global presence highlighting its user-friendliness and fantastic interface. It takes random screenshot in an interval of 10 minutes to hold the employees responsible for their activities. It can track the employee performance based on keyboard and mouse usage, URL tracking and Apps usage measuring. You can get a generalized report on the overall performance. You can pay them based on that, create invoices and even budget projects.

Offer:     Apploye is offering 25% discount on all plans for life time.
Coupon: Cyber-Monday-25
Validity: 20 Nov, 2021 to 20 Dec, 2021

4. Pixpa
Looking to create your own portfolio website? Check out Pixpa's black Friday offer and take advantage of 50% off. Pixpa is an all-in-one no-code platform for creators and small businesses to create beautiful, professional websites complete with built-in online stores, blogs, and client galleries. Pixpa's versatile platform has everything you need to showcase your work, share ideas and sell your stuff online, without any coding knowledge.

Offer:  Pixpa is offering a 50% discount for the first year
Coupon: BLFPIXPA50
Validity:  4 Dec, 2021

5. Turbologo
Turbologo is an online logo generator that will help you create your own logos in just minutes. Our logo maker allows you to create all types of logos including company logos, product logos, gift logos, and more. Create and customize your own logo with Turbologo for free today!
Offer:   Turbologo is offering up to 75% discount on all its products.
Coupon: black2021
Validity: 29 Nov, 2021

6. EasySendy
EasySendy is the best email marketing software for online gig creators like, bloggers, podcasters, vloggers, business coaches, YouTubers, writers, course creators, consultants, freelancers, authors, coaches, musicians, photographers, and startups.
Offer:   EasySendy is offering 50% off for the whole year when you choose an annual plan.
Coupon: BLACKFRIDAY2021
Validity: 30 Nov, 2021

7. Saleshandy
Saleshandy is a sales engagement platform that enables sales teams to scale their email outreach seamlessly. Campaigns on Saleshandy are the easiest to schedule and you can send hundreds of emails to your leads at once. You can also personalize your email campaign using merge tags, and can automate follow-ups based on engagement on the last email and examine the Saleshandy pricing to see which one best meets your requirements!

Offer:  Saleshandy is offering upto 60% discount on all Annual plans and 40% on the enterprise plan.  
Coupon: ENTBFCM2021 (For Enterprise plan only)
Validity:  1 Dec, 2021

8. SE Ranking
SE Ranking is an all-in-one SEO  platform that offers a wide range of useful tools for marketers such as website audit, competitor analysis, website ranking, backlink monitoring, keyword research and groping, social media management, and automated professional reporting.

Offer:  SE Ranking is offering 20% discount on all yearly plans.  
Coupon: BLACKFRIDAY2021
Validity: 6 Dec, 2021

9. Chanty
Chanty is a team collaboration tool that offers unlimited searchable messaging, audio and video conferencing and a project management system with the Kanban board.
Chanty integrates with third-party apps including Trello, Asana, Zapier, Google Drive, Dropbox, OneDrive, Github, GitLab, Bitbucket, Mailchimp, Giphy and others.
Chanty is available on Web, Desktop, macOS, Windows, Linux, and mobile for iOS and Android.

Offer:  Chanty offers 3 deals for Cyber Monday 2021:
            15% off on a monthly plan (for 1 year)
            50% off on an annual business plan
1 month free + 50% discount on non-profits, educational and government
            institutions
Validity: 5 Dec, 2021

10. Breadnbeyond
Breadnbeyond is an explainer video production company that creates fully customized animated video content. Ready for your business to visually engage

Offer:      Buy 1 Explainer Video Get 1 Free.
Coupon: BLACK FRIDAY 2021
Validity:  2 Dec, 2021

11. NetHunt CRM
NetHunt is a CRM for sales and marketing teams integrated with Gmail and LinkedIn. NetHunt helps you manage leads, nurture customer relations, monitor sales progress, and close more deals.

Offer:      NetHunt CRM is offering One-time 40% off all annual plans for the first-time purchase.
Coupon: BLACK FRIDAY 2021
Validity: 29 Nov, 2021

12. Botsify
Botsify is a managed chatbot platform that provide unified chat automation for your business. Get omnichannel live-chat service connected with multiple platforms to set autoresponses.

Offer:     Botsify is offering 30% OFF in all plans.
Coupon: BFCM2021
Validity:  15 Dec, 2021

13. Sitechecker
Sitechecker is a SEO Checker for Fast & Complete Website Audit to get a detailed SEO report with a personalized checklist on how to improve your website and get to the top of Google.

Offer:     Sitechecker is offering 20% off discount for the first sale of any subscription (monthly or annual).
Coupon: blackfriday2021
Validity:  31 Dec, 2021

14. Infinity
Infinity is a fully flexible work management platform where you can organize all of your projects and tasks in one place, customize all your work to your liking, and easily collaborate with your team.

Offer:      Infinity is offering 20% off on all purchased plans and upgrades.
Coupon: 20%OFF
Validity:  01 Dec, 2021

15. Sixads
Sixads is a free Facebook ad account audit which can improve your Facebook ads' audience, conversion rate, & sales performance.

Offer:      Sixads is offering FREE ad account audit - only this month and only for online store owners! But hurry as the offer only stands for the first 5 of you. So, get your ads ready for the upcoming holiday season with personalized insights and tips on Facebook ad campaigns from certified PPC experts.
Validity:  31 Dec, 2021

16. SocialBee
SocialBee is a cloud-based social media management software designed to help businesses manage content, scheduling, marketing, planning, audience tracking, and more across LinkedIn, Facebook, Twitter, Instagram, Pinterest and other social networks. The platform includes custom posting capabilities, which enable organizations to handle content posting on social profiles, pages, and groups, and promote offers, products, events, and services on Google Business.

Offer:      SocialBee is offering 30% off for 3 months on any tool plan and 30% off for 3 months on any Concierge Service.
Coupon: SOCIALBEEBF21
Validity:  29 Nov, 2021

17. LiveWebinar  
LiveWebinar is the single platform for all your webinar needs, from live and evergreen webinars to online meetings and big virtual events.

Offer:   LiveWebinar is offering 20% discount for one subscription period. The promotion is combined with default annual account discount, which allows you to get an attractive price on long-term purchases of PRO and BUSINESS accounts.
Coupon: BF2021
Validity: 02 Dec, 2021

18. Omnisend
Omnisend is an ecommerce-tailored email & SMS marketing automation platform.

Offer:  Omnisend is offering 40% discount off your first 3 months.
Coupon: OMNIBFCM40
Validity:  01 Jan, 2022

19. Better Proposals
Better Proposals is a great software that helps you create and send high-converting business proposals. They offer a vast library of proposal templates, a digital signature option, payment integrations, proposal analytics, and more. This Black Friday and Cyber Monday, we're celebrating 5 years of Better Proposals.
Offer: Better Pfroposals is offering 50% off in the the Premium and Enterprise plan for the first 5 months.
Validity: 29 Nov, 2021

20. EngageBay
EngageBay is an integrated all-in-one marketing, sales and support platform with a free CRM built for startups and growing companies.

Offer: 40% off across all plans for first-time signups.
Validity: 04 Dec, 2021
21. DataFeedWatch
DataFeedWatch is a feed marketing solution that enables merchants and agencies to create fully optimized product feeds for more than 2000 eCommerce channels. It's a great solution for supercharging your PPC campaigns on multiple channels like Google, Facebook, Instagram, and many more.

Offer: DataFeedWatch is offering Upto max 1500$ discount
Validity: 31 Dec, 2021
22. SocialPilot
SocialPilot is the one-stop solution for all your social media marketing endeavours. Schedule posts at the best times, get white-label reports, and track multiple social media profiles from a single dashboard. Enjoy these and much more with the leading scheduler at a really affordable price!

Offer: SocialPilot is offering flat 25% off on all of its annual plans.
Coupon: Deal25Off
Validity: 04 Dec, 2021
23. Vouchery.io
Vouchery.io is an AI-Powered Coupon Management & Automation that shapes customer engagement with contextual, predictive e-commerce promos and special offers.

Offer: Vouchery.io is offering GlobalGiving.org gift card worth 50% of the 3-month subscription value of any of the monthly subscription plans: Hustler, Startup, and Business.
Validity: 29 Nov, 2021

24. FlexClip
FlexClip is an easy-to-use video editing website. For those of you who are not specialized in graphics, you can still create professional videos with an intuitive interface, a huge stock of video templates.

Offer: FlexClip is offering 67% off in 2 years plan.
Validity: 06 Dec, 2021
25. CallHippo
CallHippo is one of the leading VoIP providers in the market. It enables you to purchase virtual phone numbers from 50+ countries and takes only 3 minutes. CallHippo provides various business number services and offers a wide range of cloud-based, affordable and secure phone plans.

Offer:  CallHippo is offering 25% off on Platinum plan.
Coupon: BFDEAL25
Validity: 26th Nov to 29th Nov 2021

26. NapoleonCat
If you're looking for an advanced social media management platform, NapoleonCat is your top choice. NapoleonCat's flagship product, Social Inbox, helps businesses and individuals manage social media engagement and provide excellent social customer service across all major social platforms: Facebook, Messenger, Instagram, Twitter, LinkedIn, YouTube, and Google My Business.

Offer: NapoleonCat is offering a 50% discount on annual subscription, this Black Friday and Cyber Monday.
Validity: 30 Nov, 2021


27. SSL Certificate
ClickSSL is helping small, medium and big brands since last 8 years and became trusted name in SSL industry. They simultaneously, assure to offer SSL products at unbeatable price without compromise of quality. They  also help our clients by offering value added services like generating CSR, SSL installation, SSL finder, 24*7 support, 30 days money back guarantee.

Offer: SSL Certificate is offering Up to 79% Discount.
Validity: 31 Dec, 2021
28. actiTIME
actiTIME is a multifunctional time tracker for easy project management. It includes one-click timers, automated invoicing, detailed reports, and much more. It helps users to identify major time wasters, boost process efficiency and make smarter work management decisions. In addition to that, actiTIME has a user-friendly interface and flexible configuration, allowing you to tailor the tool specifically to your workflows and performance needs.

Offer: Newly released actiTIME 2022 with a 30% discount which is valid for both the online version of the tool and the self-hosted one.
Coupon: CYBERSALE
Validity: From 06 Dec, 2021 to 08 Dec, 2021
29. Convin
Convin is an AI-powered Conversation Intelligence tool for inside sales teams. It records, transcribes, and analyzes your sales conversations to give you meaningful insights that help you close big—primarily used for call recording, sales coaching, sales training, sales enablement, meeting intelligence, market intelligence, and deal intelligence.

Offer: Convin is offering a 30% discount on all annual subscriptions.
Coupon: CYBERSALE
Validity: 05 Dec, 2021
30. Cliently
Cliently is a sales intelligence and engagement platform to work the Entire Sales Journey of every lead. It devotes itself to generate engagement, intelligence and conversations.

Offer: Cliently is offering 80% discount on Annual Pricing.
Validity: 30 Nov, 2021
31. Content Studio
Content Studio is a powerful content marketing & social media management platform for publishers, brands, agencies &, startups who want to share the best content consistently and increase their reach.

Offer: Content Studio is offering Growth plan at $99/year and annual 50% discount on all plans for first year.
Validity: 25 Dec, 2021
32. Mockplus
Looking for a powerful product design collaboration tool to bring your entire team on the same page? Mockplus is the perfect fit that lets you invite your team's designers, software developers, product managers and other participants via a single link, and then, design, prototype, collaborate and even hand off designs with auto generated design specs, assets and code snippets. Role-based access levels and permissions make it a breeze to perfectly manage your projects and team members. Your entire product design workflow is connected in one place.

Offer: Mockplus brings exclusive 3, 5, and 10-user team offers with Up to 72% OFF - down to $3 per user per month.
Validity: 15 Dec, 2021
33. GetResponse
GetResponse is a powerful, simplified tool to send emails, create web pages, and automate your marketing. Grow your audience, engage with more customers, sell your knowledge and boost sales all from one platform.

Offer: 40% discount
Validity: 24 November 2021
34. Checkprint
Checkprint is one of the best check printing software you can have around which is acceptable in 8000+ Banks and Institutions, suitable for business owners, bookkeepers, and individuals and offers Built-in security features as well as fraud prevention. It is a modern solution to generate and print your checks online in seconds, without wasting your money.

Offer: Checkprint is offering 1 additional check for free for every check you buy in their service.
Validity: 30 Nov, 2021
35. CONTADU
CONTADU is a Content Intelligence platform for effective content planning and optimization, as well as for quick competitors analysis and easy content writing with a built-in editor. Based on machine learning and NLP recommendations it helps to plan and optimise your content in an efficient way, pushing the created content to a leading position in Google. A simple and intuitive editor allows you to create content based on key ranking factors, inspirations and valuable ideas that increase the interest of readers. Due to the fact that the entire process is oriented on the users search intentions, it helps to easily create interesting content for your potential audience.

Offer: 50% off on all annual plans.
Validity: 22 Nov - 29 Nov 2021
36. Emitto
Emitto is a no-code messaging hub tailor-made for marketers. Emitto helps businesses convert leads and engage with existing customers by sending personalized direct messages across multiple channels with CTRs that are  10x more efficient than email. Supported channels: SMS, Viber, Web Push, Facebook Messenger.

Offer: 20% OFF of all monthly plans, 40% OFF of all yearly plans
Validity: 03 Dec 2021
37. Cloudways
This Cyber Monday, start your Cloudways journey with 40% off on all our plans. Just use BFCM2021 and get super fast managed cloud hosting with reliable support and rock-solid security!

Offer: 40% off on all our plans
Coupon: BFCM2021
Validity: 01 Dec 2021