How to Create a Poll on Facebook Group,Messenger, Story
Get the detailed idea on how to create poll on Facebook group, messenger, story.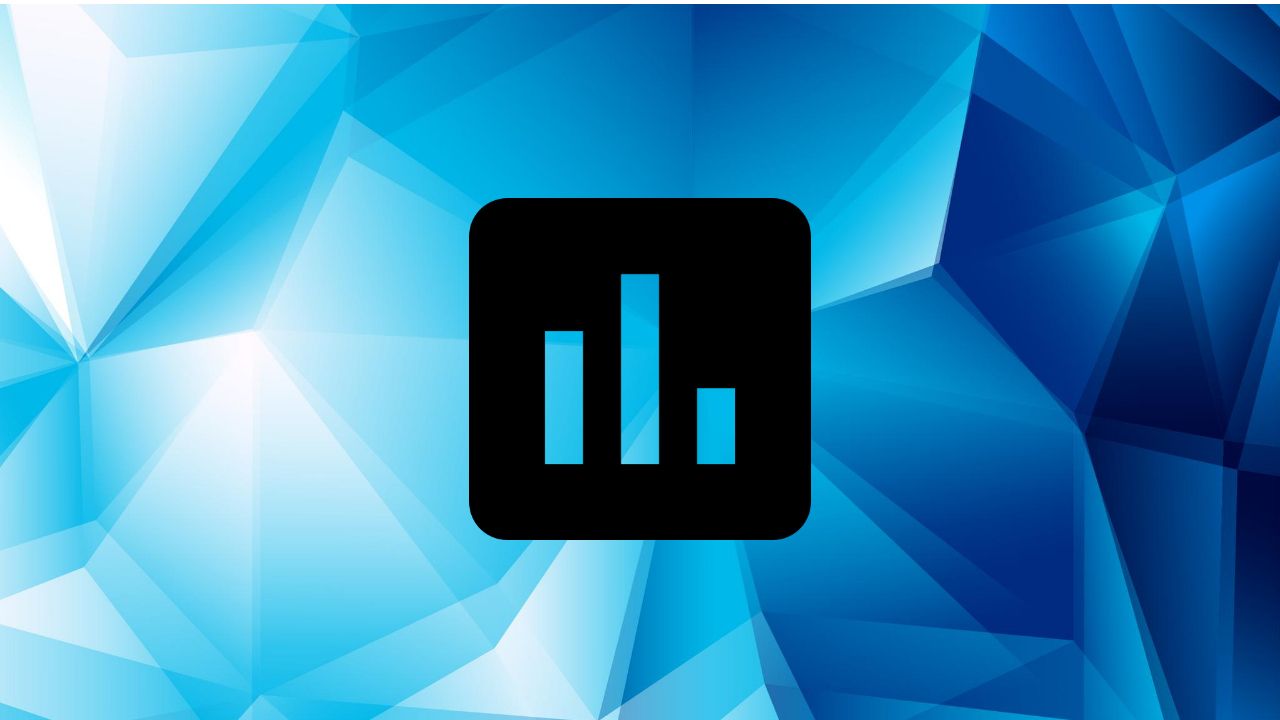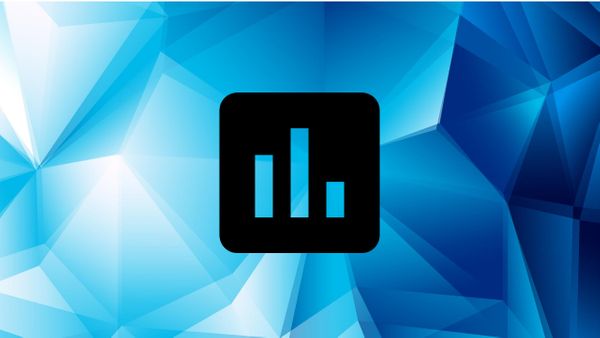 Facebook Polls can assist you in determining your audience's concerns, what you should build next, and their actual feelings about your company. While it can help you in making more effective business decisions, Facebook Polls can also accomplish the following for your online presence:
Increase the engagement on your Facebook page (asking questions is one of the best ways to generate high engagement)
Assist you in overcoming the newsfeed algorithm without the use of advertisements
Create a strong sense of community surrounding your brand
On Facebook, you can create a poll to pose a question, edit the responses, and allow people to vote for their favourite alternative.

Remember that to create a poll on a Facebook Page; you must be an admin or editor.
How to Make a Facebook Poll?
You can no longer create a Facebook poll from your Newsfeed or timeline. For the time being, the only option to share a poll is through a Facebook Group, a story, an event page, or Messenger. However, you can also hire a social media manager that could help you make these polls interesting and engaging.
⏩How to create a poll in a Facebook Group?
Click Groups in the left menu and select your group from your Feed. If you don't see Groups, click See More.

2. Click Create a public post/write something and click in the bottom right and select Poll.
3. Enter a question or poll sentence and then fill out options. Then click Post to make the poll live.
⏩ How to create a Facebook Poll in a Facebook group on Mobile
Tap the three stacked vertical lines in the bottom right of Facebook.
Tap Groups, then select a group you manage.
Next to "Write something…", tab the circled ellipsis (three dots) and select "Create a Poll."
Tap "Ask something…" and enter your question.
Tap + Add a poll option… to enter options for group members to select.
Tap the gear ⛭ icon to select whether you "Allow members to add options" or "Allow people to choose multiple options."
Tap "Post."
⏩ How to Post a Poll to a Facebook Story
To add a poll to a Facebook Story, you must use the Facebook iOS or Android app. This is because you can't create a poll in your Stories on Facebook's desktop edition.
To create a poll in a Facebook Story:
Open the Facebook app on your phone.
Tap Create Story at the top of the app screen.On the Create Story screen, tap Poll at the top. Or select a background or photo from your gallery and then click on the Sticker option.

3. The new poll screen appears. On this screen, tap Ask a question and type the question for your poll.
4. Tap Yes and replace it with an option for your poll.
5. Tap No and replace it with one of your poll options.
6. When you're done, tap Done at the top-right corner.
7. Select Share at the bottom to share your poll in your Facebook Story.
⏩ How do I use polls on Messenger?
On Messenger, you may utilize polls to develop plans and coordinate with others. One member of a group, for example, can start a poll, and the others can vote to choose an activity, a time, or a location. Polls are also available in Facebook messaging.
➤ Create polls on Desktop messenger.
Open the group chat in messenger in your Facebook desktop app.
Click on Plus icon at the botton left corner and then you will find Create a poll option.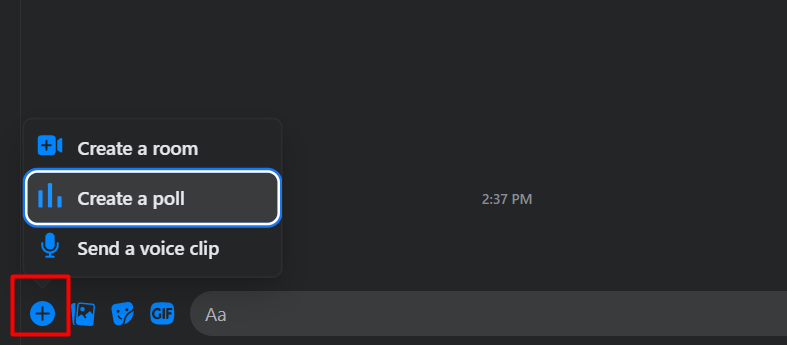 3. Now write the poll question with options and then click on Create poll.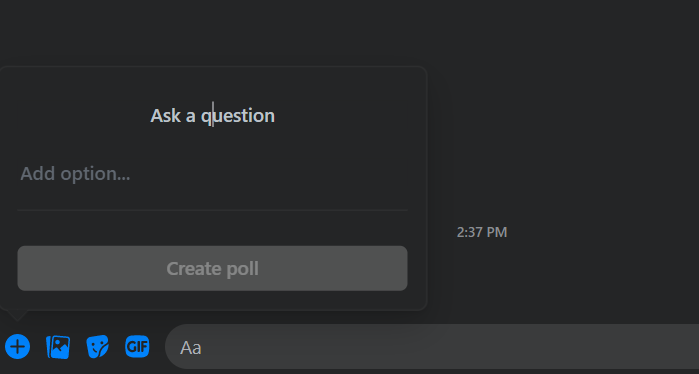 ➤ Create polls from iPhone messenger app.
Open your group chat in iPhone messenger app.
Tap on plus icon and you will find the poll option.
Tap Create Poll after adding the poll question with options.

➤ Create polls from Android messenger app
Open your group chat.
Tap 4 dots near the bottom left.

3. Tap  Polls.
4. Add your poll questions with the options.

5. Once you have added the poll questions and options, click on Create poll.
Remember, you cannot delete and edit the poll. Only you can add options and change votes.

Things to check while creating a post in Facebook group

👉You can't post a poll without a text
It means you cannot post a blank poll though nobody does it. You have to write something in the Add poll field and post the poll.
👉The text of a poll can't be edited once people start voting.
You can edit the text of a poll until people start voting. To edit a poll you created before people have started voting, click, then Edit post. Poll creators and group admins can add or delete poll options anytime.
👉 Only group members, admins and moderators can vote on polls.
If you don't see this option available in your group, it could be because the group admins don't allow this kind of post in your group. If you're an admin, learn how to manage this feature in your group.

Generating Leads from Facebook groups is easy now. Set Facebook group questions and save the answers with a single click using Groupboss.
Benefits of creating polls on Facebook
By creating polls on Facebook you can generate lots of values for your businesses. Some of the top notch benefits of Facebook polls are added here
➥ Making important decisions
If you are in a dilemma of taking decisions, Facebook polls can help you a lot. Just create a poll and ask recommendations or upvotes on your options. Get the most voted options and implement those after feasibility analysis.
➥ Feature request thread
This can help you to understand the expectations of your customers. Feature request threads can be created through facebook polls.  Ask your group members who are also the users of your product by creating a poll in your Facebook page or group.

➥ Taking customers' opinion
With the help of Facebook polls, it is very well possible to gather customers' opinions and understand their mindset. Keep your desired options in the poll and also let the group members add their opinions on the poll.
➥ To collect feedback from your audience
Feedback is a strong tool to improve the performance of a product or service. It is more important in case of a new product or initial launch. Product owners use different strategies to gather feedback. Remember, Facebook groups can be a great place to gather feedback free of cost.
➥To increase engagement and boost brand awareness
By asking opinions you get more engagement in your Facebook page or Facebook group. Many group admins do not know this simple Facebook group engagement hack. Create polls to keep your group super engaged and vibrant.

Concluding Remarks
Using Facebook Polls, you can easily collect opinions. It's simple to get comments about numerous issues from your social network followers now that Facebook allows you to create polls in your Groups, Messnger groups and Stories. Try it out for yourself and see how it goes.
Written By
Sami Sadith
Sami is a content writer & loves to read. He enjoys writing about topics such as productivity, viral marketing and growth hacking. Allowing himself to create his unique visual style, but still allowing people to recognize it.