How to Delete a Facebook Group: A Detailed Guide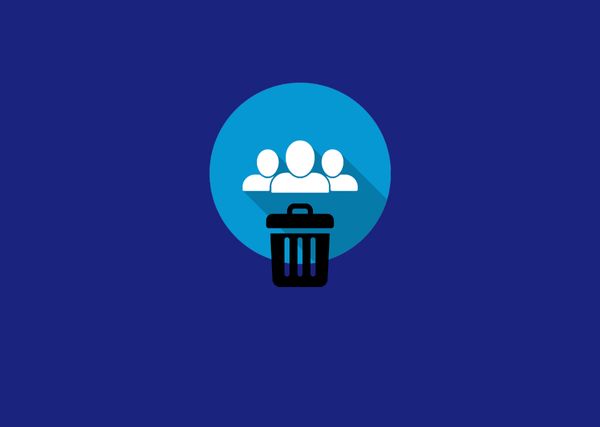 Creating or joining a Facebook group has many advantages and makes it easier to interact with like-minded people. However, there may be groups that you no longer operate or the purpose of the group is finished. You can then decide to delete that group.
Before you delete your Facebook group, there are a few things you should know.
➤You can only do this if you're an admin of the Facebook group and the it was created by you.
➤If you're an admin who didn't create the group, you can only delete it if the original creator decides to keep it.  
➤When you delete a group on Facebook, the members are not notified.

So, let's read the step-by-step guide to understand how to delete a Facebook Group as an admin.
How to delete a Facebook Group from desktop
To delete a Facebook Group you created, you can follow these steps:
Step 1: To begin, click the Groups icon in the left section of your news feed.

Step 2: Go to the Facebook group that you own and want to delete.

Step 3: Now, on the left, click Members and remove all the members of your group one by one by clicking the three dots (...) icon to the right of each member.

Step 4: Now you would need to select the Leave group next to your name once you've removed all the other members.
Step 5: It's now time to leave and delete the group. Click the Leave and Delete button now. Finally, the Facebook group will be taken down.

This will permanently delete the group. When you delete a group, Facebook does not notify its members.

Note: You need to remove all the members before you leave the Group. If you do not do that, any other member can make themselves admin and start managing the group. If no member takes over, the group will be archived. Though it's time consuming if you have more members, still you should remove the members.

Now, you know how to delete Facebook Groups from your laptop or desktop computer. Let's look at how to delete a Facebook Group using a mobile device.

How to delete a Facebook Group from the mobile app

Step 1: In your Facebook mobile app, go to the group that you want to delete.
Step 2: Tap on the group name, and then tap See All to view all of the members.
Step 3: Click on three dots(...) next to each member's name and select Remove member.
Step 4: After everyone in the group has been removed, click on the top right corner of the Group as shown below.
Step 5: Now scroll down. You will find the option Delete group. Click on this option to delete your Facebook group.
Why do Facebook groups can be deleted?

👉Groups that violate Facebook's Terms of Service or Community Standards are deleted. The standards state that the principal causes for deletion include the advocacy of violence, attacks on individuals or groups, nudity, and drug-related, violent, or sexually explicit content. Other problems could arise. Facebook focuses on specific groups. The site also allows users to report violations.

👉Any group with no members is deleted by Facebook. This can happen if the group's administrator leaves and no one else comes in to fill the void. If all other members leave the group over time, Facebook will close it. Keeping one administrator or member in a group allows it to remain open.

👉Although only one person is required to form a group, that person can appoint multiple admins to manage it. Multiple administrators are frequent in large groups. An untrustworthy administrator can kick other administrators out of the community, then delete all of the remaining members before leaving. After that, the group is deleted. As a result, use caution while appointing people as administrators.


Final Words
Facebook groups are important to create a community and generate leads. However, sometimes you may need to delete a Facebook group. There can be a several reasons to delete a group that are already described in brief.
Written By
Sami Sadith
Sami is a content writer & loves to read. He enjoys writing about topics such as productivity, viral marketing and growth hacking. Allowing himself to create his unique visual style, but still allowing people to recognize it.