Facebook Group Admin vs. Moderator: All You Need to Know in 2023
Facebook group admins and moderators have differences in their responsibilities. Learn more about them from this article.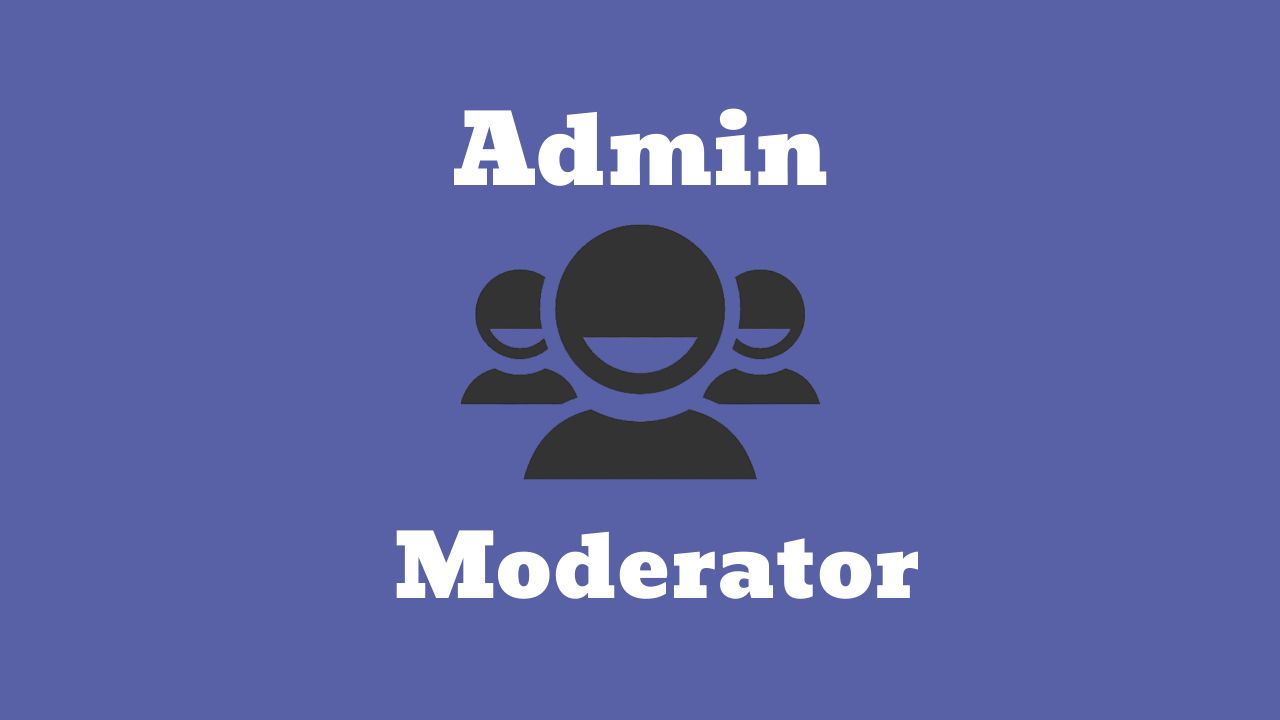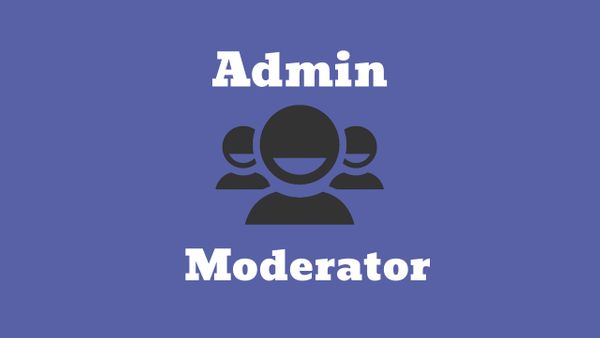 An administrator's duties, an admin in short, and a moderator are sometimes confused.

"What exactly is the difference between a Facebook admin and a Facebook moderator?" we frequently ask ourselves.😕😕

However, you may now let go of all your fears. The dark days of confusion are over.☝☝☝

Let's dispel all of our doubts in this comprehensive guide.

Who is the admin and moderator on Facebook?
An admin is a person who created a Facebook group and has complete control over its settings. On the other hand, a moderator is someone who assists the admin in keeping track of the group's activities and ensuring that everything is running smoothly.
There are separate Facebook group badges for both and admin so that a member can easily identify them.

How to add an admin or moderator to a Facebook group?
These are some steps for appointing someone as an admin or moderator of your Facebook group.
Make someone an admin or moderator of your Facebook group by following the instructions below.
Step 1: Go to the left menu and select Groups from your News Feed.

Step 2: From the top below the title, select Members.
Step 3: Next to the individual you'd like to become an admin or moderator, click the three dots.
Step 4:  Select Make Admin or Make Moderator from the drop-down menu.


Step 5:  The member will get a notification of the invitation. They will become an admin or moderator of the Facebook group after accepting the invitation and will be able to perform appropriate regulating measures.

Need a video tutorial on how to admins and moderator to your Facebook group?
We have got you covered.

Roles and responsibilities of Facebook group admin and moderator:
There are differences among the roles and responsibilities of Facebook group admins and moderators.
The roles of Facebook group managers and what they can perform are listed in the table below.

Let's know in brief about the above-mentioned roles.
Roles of Facebook group admins
1. Make another member an admin or moderator
Admin can make someone an admin or moderator. It is normal that you won't let your moderators have full control of your group.

However, if you want to provide full access, you better make the members admin of your group. And, the steps of adding a member as an admin and moderator are already described above.

2. Remove an admin or moderator
Anyone, including the creator and other admins, may be removed by an admin. No one, even the creator, can prohibit the admin from adding or removing people. As a result, consider twice before promoting someone to an admin. Only Admin can do this; the moderator has no authority over it.
Note that an admin has the authority to dismiss other administrators and moderators. As a result, be cautious about who you choose as a new admin.

3. Manage group settings
Admins have the authority to change the Facebook group's description, tags, and settings, including its privacy setting (open, closed, or secret). Admins may also delete postings and remove or ban members from the group if required.

4. Approve or deny membership requests
Select Only admins and moderators from the "Who Can Approve Member Requests" drop-down menu under Membership of Group settings.
You may create Facebook group membership questions that will assist you in deciding whether or not to accept a member's application.
Both admins and moderators have the authority to approve or deny membership requests.

Once the member is approved by clicking on the Approve button, the answers given by the new members are hard to find later.
Don't you think those answers are important to you?🤔🤔🤔

No worries, we have got a solution for you. Using Groupboss you can save the answers in Googlesheet and a dashboard with a single click only.
If you ask for email addresses in the question, you can also get those email addresses in Googlesheet, the Groupboss web app, and in the email marketing autoresponders.
Save Facebook group membership answers and generate unlimited leads with Groupboss.
5. Approve or deny posts in the group & remove posts and comments on posts:
An admin can accept or refuse membership requests and postings within a group. They can also delete posts and comments, ban group members, and pin posts in Facebook groups.

There are people who are admins and moderators in a group. They can remove posts from the group and say why they were removed. Add a note from the admin, and the person who made the post will know that it was taken down. Admin & Moderators can also remove comments on posts if those go against the group's rules.
Go to your group, and let that the post needs your approval.
6. Remove and block people from the group:
Facebook Groups are intended to bring individuals together who share interests. Sadly, they may attract trolls.
If someone has made an abusive remark, click the arrow next to it and choose Delete Post and Remove User. Both Admin & Moderators have the right to do it.
You may choose to erase their past remarks or deny their invitations—select Block to prevent the User from rejoining or seeing the group.
You may also delete a member. Click on the number of members on the right-side panel.

Roles and responsibilities of Facebook group moderator:
A Facebook group admin has full control over all the settings of the group. Whereas a moderator has access to limited features of the group.  The functionalities of the rules and responsibilities of a Facebook group are described in brief above.

A moderator has access to all the features as shown in the above screenshot except the first three. Let's see all these roles:

A moderator can approve or deny any member request.
A moderator can approve or deny any pending post.
A moderator can remove posts and comments from the Facebook group posts.
A moderator has the access to remove or block any member of the group.
A moderator can pin a post in a Facebook group.

If you want to learn the details of these roles of Facebook group moderators, check above and read again.

Is it possible to have no admin in a Facebook group?
An admin should be assigned to a Facebook group from the start. On the other hand, the FB group will be without an admin if that and all other admins leave. Any of the existing group moderators can claim the admin job in such a scenario.
Why admin should worry about these things if your moderator already does?

That said, if you, as an admin, delegate entire control over these aspects of your Facebook group to your moderator, you'll be free to focus on other important aspects (such as the ones listed below) and take your Facebook group to the next level.

Check out the essential areas where Facebook group admins should focus their efforts below.
Concentrate on strengthening relationships with key opinion leaders in his or her community.
Track the relevant metrics to understand the community's growth on a daily, weekly, and monthly basis, and collaborate with the moderator team to drive it.
Determine growth hacks and prospects for expanding the community and generating cash from it.
Work with the moderator team to understand the community's conversation and consumer insights in order to develop highly engaging content on the topic.
To discover what tools he or she may utilize to better manage the group, try out new Facebook group features and third-party applications.
Experiment with other platforms like Instagram, Telegram, and WhatsApp marketing to increase member engagement or better segment them. Create firmographic data of your competitors. This way you can analyze which methods work effectively for others.

"Saints have no moderation, nor do poets, just exuberance."― Anne Sexton

Are we saints or poets?😶😶😶😶😶😶😶😶😶😶 Obviously, no!!!! So, to make the Facebook group more profound we need a moderator.
In a Facebook group, what does a Moderator do?
Moderators can undoubtedly relieve you of some of your responsibilities.

Delete spammy comments and postings.
Respond to questions from other members of the group.
Approve or reject posts.
Examine member profiles before approving or refusing requests.
Respond to members who contact you directly.
Assist in the organization of events and competitions
Increase the number of people who enter contests and tournaments.
Group postings can be pinned and unpinned.
Make new posts and schedule them.
New members are warmly welcomed.

Choosing a moderator for a Facebook group based on these characteristics in a person.

Love: For the community's cause and beliefs, for fostering connections, for making a difference, and for assisting members by answering or directing questions to the appropriate person.
Credibility: Have gained the community's complete trust. It takes a lot of time and works to make something like this, therefore it can't be faked.
Commitment: To the success of the community and its members.

Remember that it is your compassion and unity that will get you far.

Together, we're more powerful. At all times!✌✌✌

Top five tips for successfully managing a Facebook group
Tip 1: Choose the correct level of privacy
Tip 2: Create a great intro blurb
Tip 3: Create clear guidelines and pin them
Tip 4: Hire good administrators
Tip 5: Set up a separate admin group.

To Wrap Up
A Facebook group cannot exist without an admin. Likewise, a moderator is also important for a group for better management. You can manage your group by yourself if there is a very less number of members. With the increase of members, you need to employ moderators and this is widely practiced worldwide.

Written By
Sami Sadith
Sami is a content writer & loves to read. He enjoys writing about topics such as productivity, viral marketing, and growth hacking. Allowing himself to create his unique visual style, but still allowing people to recognize it.