30+ Small Business Tools that will Transform Your Business in 2023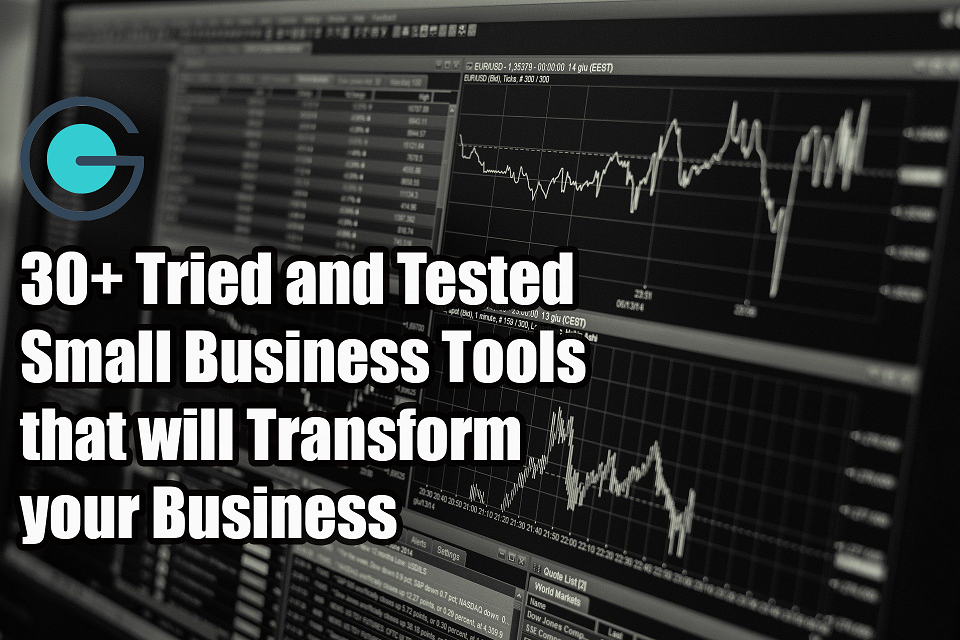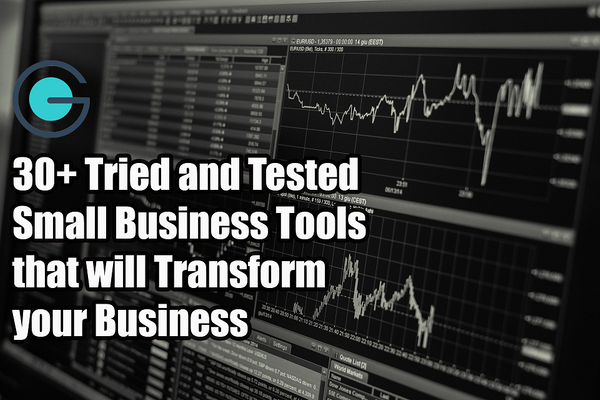 In today's world, the number of businesses is well over 200 million.
90% of them represent Small & Medium Businesses (SMB's).
According to Fundera, 20% of these businesses will fail in the first year of operation, and another 30% will fail in the second year. At the end of the fifth year, half of them will get wiped out of operation.
Do you really think you can withstand the heat of this competition without the touch of business tools and social media automation tools?
While employees are still an indispensable part of businesses, tools related to business process automation can do more than what you perceive them to do!
There are many technologies for businesses that help to streamline workflows and achieve higher efficiency.
This article discussed 30+ small business tools that can help you transform your business to the next level without the risk of getting wiped out.
Go through the article to see these small business tools, their attributes, pricing plans, etc.

1. Google Drive - Personal Cloud Storage & File Sharing Platform
For any business, no matter how small it is, Google Drive is a necessary tool to be maintained. The cloud storage offered by Google ensures secured data preservation and usage from anywhere in the world.
Google Drive offers 15 GB of data storage free, but you need to pay for once choosing to go bigger. Data is the language of today's business world, and you can't ignore the impact of big data on your organization. While security breaches and information theft are not rare, Google Drive ensures you store the data safely for further usage. So, it's a wonderful tool to transform your small business into a large one.
Key Features
Team Collaboration & Sharing
Drag and Drop uploads
Advanced Search
Mobile Application with uploading facilities
Automatic conversion of the uploaded files into Google Docs' editor format
Pricing
Free: 15 GB Storage
Basic: 100 GB Storage at $1.99 per month
Standard: 200GB Storage at $2.99 per month
Premium: 2TB Storage at $9.99 per month
2. Zoom - Communication through Video Conferencing
Video conferencing with team members and clients is now a common practice, especially after Covid-19 hit the planet. Zoom can be a good choice if your small business depends on video conferencing now and then.
Zoom, being an amazing conference call service, is an elegant product that helps you arrange video conferencing with your teammates and clients. You can share your screen, record the video and divide the participants into multiple breakout rooms as per necessity. Arranging webinars with upto 500 participants, social media streaming, and receiving recording transcripts are other amenities you should consider while choosing Zoom as the video conferencing platform for your business. Follow zoom meeting tips and tricks for a better zoom experience
Key Features
Creating and Scheduling Meetings
Live Streaming Meetings or webinars on YouTube, Twitter, Facebook
Host and Co-Host control during the meeting
Scheduling recurring meeting
Chatting during meeting
Pricing
Basic for the personal meeting: Free
Pro for small teams at $149.90 per license per year
Business solution for small business at $199.90 per license per year
Enterprise for large organizations at $240 per license per year
3. Zoho Mail - Secure Email Communication Platform
Businesses need to have a consistent platform for sending and receiving emails form partners, customers, and clients. Zoho Mail can help you get the job done with zero security concerns in exchange for a little money.
The spam filtering option in Zoho mail is a necessary solution for every business. It offers iOS and android versions to use your mail from the cellphone. Customizing the user experience in such a budget-friendly way would be an amazing thing for any small business. Again, Zoho offers 100 GB storage for professional pricing page subscribers.
Key Features
Filters to automate the tiresome work
Advanced Search option
Scrub to clean up the inbox quickly
Folder specific notification
Global search and scheduling
Pricing
Mail Lite at $1 per user per month (Billed annually)
Mail Premium at $4 per user per month (Billed annually)
Workplace at $3 per user per month (Billed annually)
4. LiveBoard - Digital Whiteboard For Effective Employee Training
LiveBoard is an online whiteboard that can be used for small business purposes. It allows you to share your ideas and thoughts with others visually and create captivating sales presentations. At first glance, you might associate the LiveBoard with only an educational tool; however, it's widely used by companies worldwide.
On top of that, LiveBoard is an excellent tool for team collaboration. You can use it to brainstorm, collaborate on projects, and even give presentations. It also allows company managers to keep track of their team's progress by sharing boards with each department separately.
Key features
Collaborative board
Voice Call
Zoom Integration
Group & Folder Management
Export PDF
Pricing
Free 0$ per month, includes 1 member per board
Standard $7.49 per month, 1 member per board + Zoom integration
Pro $14.99 per month, up to 4 members per board + Standard features
Advanced $22.49 per month, up to 10 members per board + Pro features
5. ProProfs Survey Maker - Customized Online Survey and Form Maker
ProProfs Survey Maker is the ideal choice for small-scale firms when it comes to conducting surveys for collecting customer feedback. The tools offer 100+ survey templates to help capture real-time insights from your audience.
Using this tool, you can create engaging and customized surveys, forms, polls, and even quizzes. This tool can also work as a product reviews app, where you can collect internal reviews and feedback about your product in a form of post-purchase surveys. It also has a centralized analytical dashboard where you can see who filled out the survey, when and how they filled it out, etc.
Key Features
100k+ ready-to-use survey questions
Integration with popular tools like Zendesk, Salesforce, and WordPress
Multiple survey-sharing options
Real-time notifications
Availability of various question types
Automatic response grading
Branching and skip logic
Pricing
Free: $0/month
Essentials: $0.05/response/month
Premium Plan: $0.10/response/month
6. Groupboss - Raining Sales From Your Facebook Group Like a Boss
Groupboss can be the ultimate game-changer for your small business entity. It helps you avoid the menial tasks of copying and pasting the answers from the new Facebook group members within seconds. Groupboss promises to save you valuable time, effort, and money; in return, it helps you grow a long list of leads that can be converted into customers who will generate revenues for your business.
This fantastic piece of Google Chrome extension requires just a few seconds to be downloaded and installed. You can connect to multiple Facebook groups and get the information of the requesting members once it is set up and operated properly. Integrations with 18 autoresponders such as Moosend, SendGrid, ActiveCampaign, GoHighLevel, etc., help you use those leads for email marketing campaigns. The pricing is very affordable, and the operation with Groupboss is as smooth as you will ever experience!
Key Features
Exporting data from both CSV and Excel file
1 Click Custom & Lookalike Audience
Integrations with 18 different autoresponders
Transfer of data and leads to Google sheet and Groupboss Dashboard
Exclusive chat support and videoconferencing if needed
7-day trial for free
Pricing
Groupboss Monthly at $19 per user per month
Groupboss Yearly at $99 per user per year
Groupboss Yearly (Unlimited) at $189 per user per year
7. ClickUp - Smooth Task Management & Team Collaboration
Managing tasks has always been a tricky game for startups and small businesses. The better you are at managing and executing plans of the tasks, the more chances there are for your business to stand out among the crowds. ClickUp is a solution for small businesses that helps you manage tasks, create a disciplined workflow in the organization, and keep track of everything your business is going through during different phases of its operation.
Also, some other Tools like ClickUp help you set SMART goals for different projects that you undertake and get notifications once you're assigned to any new task. Sharing documents and keeping your teammates updated with everything you do is a breeze in ClickUp.
Key Features
15+ views including Box view, Gantt view, Mind map view, Embed view, etc.
Real-time reporting of Workloads, goals, milestones, and pulse.
Integrations with Slack, Google Calendar, Zapier, Front, etc.
Team Collaboration & Communication
24/7 active customer support.
Pricing
Basic for the personal meeting: Free
Pro for small teams at $149.90 per license per year
Business solution for small business at $199.90 per license per year
Enterprise for large organizations at $240 per license per year
8. Slack - Instant Team Messaging and Collaboration Platform
Instant communication is part and parcel of a startup or a small business member. Slack is a tool that helps you have your teammates interconnected to run operations smoothly. It is a friendly app that enables the team to share news in shared rooms and go for 1-on-1 communication wherever necessary.
Slack helps you join various productive communities in the pursuit of building networks to thrive together at business. It provides you the amenity of file sharing, slack poll, audio and video recording, and sending and integrating with some useful software for smoother and faster performance at work. Moreover, the accessibilities, emoji customization, and Dark mode feature made Slack a reliable platform for instant communication for small businesses.
Key Features
Access to multiple communities with Unlimited lightweight, voice-first huddles
Asynchronous collaboration across teams and time zones
More than 2,400 apps available to integrate with Slack
Smooth search in conversation to get back to any previous thread
HIPAA-compliant file collaboration
Pricing
Pro at $8 per user per month
Business+ at $15 per user per month
Enterprise Grid (Contact Sellers)
9. Ringblaze - Phone System For Teams
Ringblaze specifically aims at small and medium businesses that have a strong need for phone support. It enables your team to interact with customers from all over the world in real-time as well as communicate with each other through a shared dashboard. One of its most prominent features is a call us now button that allows customers to call you directly and for free and can be easily implemented on your website or put into your email signature. No additional hardware is needed, you can explore Ringblaze features after just 15 minutes of setup, available both for desktop and mobile.
Key Features
Collaboration dashboard
Custom phone numbers
Website call widget
Call recording
Multiple users with shared call inboxes and contacts
Customized voicemail greeting and hold music/message
Pricing
$19 per user/month if billed monthly
$15 per user/month if billed annually
A free 7-day trial
10. Crisp - Live Chat & Chatbots for Startups & SMB's
Being a small business, you can't afford to lose even a single customer who has no easy way to communicate with you or send queries. Crisp is one such platform that helps you give your top-notch customer service within seconds. It is a cloud-based helpdesk platform that can be a direct doorway to your customer's pain point.
Small businesses can take advantage of Crisp as it is a smart chatbot that is both lightweight and user-friendly. Once subscribed to any of the paid plans, you will be able to reply to your customer's queries directly to Facebook Messenger or Twitter DM. Moreover, you will see which country your customer is based in and every other related information.
Key Features
Automated Live chat messages
Shared inbox benefits with related information
Sending Canned responses (Saved Replies)
Qualifying and segmenting customers into leads.
Automating customer relationships by creating 'tracking' plans
Pricing
Basic: Free forever
Pro at $25 per user per inbox
Unlimited at $95 per user per inbox
Enterprise (Ask the vendors)

11. EasySendy - Email Marketing platform
EasySendy is the most satisfactory option for marketers to send marketing emails and drive better results.
EasySendy is an all-in-one email marketing plugin that allows you to carry all your various marketing channels together and accelerate traffic, a higher conversion rate, and better ROI for online geeks, marketers, small businesses, and startups. In addition, you can easily design email templates for your campaigns.
Key Features
Create and embed an email list form
Create customizable email list pages
Design email template with drag and drop editor
Deliver Emails automatically on your Subscriber Anniversary
Sync your Email Subscribers with Facebook and Get High Email RoI
Send Next Email Automatically to those who Open & UnOpen Email

Pricing
Free:- upto 2000 subscribers for a lifetime
Basic:- $19/month
Standard:-$89/month
Premium:- $349/ month

12. Apploye - Ultimate Time Tracker for Office, Mobile & Remote Teams
Tracking the time of the employees working remotely and controlling the workflow by bringing discipline to the overall task management are uphill battles for small businesses. Apploye is a time-tracking software that can be used as a remote employee monitoring tool to help you win the battle against both time wastage and unproductivity! It is a handy employee monitoring software with screenshots that helps build a solid organization where every dollar's value is being realized.
Apploye's dashboard is unique in performance comparison, live feed updates, and productivity management. You will be able to manage multiple tasks under various projects, manage clients and send them invoices, pay your employees as per their work hours, and keep records of employee performance by exporting reports. Moreover, it offers a Pomodoro timer, idle time tracking, URL tracking, App usage, and 100+ more features to stay productive at your workplace.

Key Features
Automatic timer, Adding manual time, Customized Timesheet view, Clock-in, Clock-out.
Graphical and Tabular view in Reports, Performance-based comparison.
Screenshot monitoring, Apps and URL usage, and Billable hours calculation.
Payroll management, Setting employee pay rates, payroll history.
Intuitive Dashboard, Live feed, Project & member-wise view.
Pricing
Solo at $4 per user per month
Standard at $5 per user per month
Premium at $6 per user per month
Elite at $7 per user per month
(50% discount on the yearly plan)
13. LeadSquared - Sales CRM and Marketing Automation Suite
LeadSquared is one of the fastest-growing software in the sales CRM category. It provides sales execution and marketing automation solutions for both inside sales and field sales (Mobile CRM).
Unlike many other CRMs out there, LeadSquared is built keeping the sales routine in mind and has everything a salesperson may need in their day-to-day chores. For instance, reminders for follow-ups along with the context of the conversation.

Key Features
Complete lead management
Opportunity management to identify upselling and cross-selling signals.
Mobile CRM for field sales users that comes with route guidance and geo-fencing
Ability to access accounts, leads, opportunities, activities, and tasks in one place
Drag and drop automation workflows

Pricing
LeadSquared's basic plan starts at $25 per user per month.
14. Mailchimp - Email Marketing and Automation Platform
Running email marketing campaigns to the leads you collect from different platforms helps you win some customers and convert them into your revenue-generating sources. Mailchimp is a great email marketing and automation platform that can transform your small business by fetching valuable customers in the incipient days.
Mailchimp helps you compose customized messages that may include media files and infographics to capture the reader's interest. The bulk email campaign that you can run with the help of Mailchimp can be based on behavioral analytics and targeting. Again, you can track the conversion rate and see the campaign analytics once it is done.
Key Features
Audience Targeting, A-B Testing
Send time optimization and Behavioral Targeting
Custom branding and Customer journey builder
Marketing CRM, forms, and Landing pages.
Integration with more than 300 useful apps and software.
Pricing
Free: $4/user/month
Essential at $11 per month per 500 contacts
Standard at $17 per month per 500 contacts
Premium at $299 per month per 500 contacts
15. Receiptmakerly - Best Receipt Maker and Online Receipt Generator
If you are a small business and need to generate frequent receipts, you just need an online receipt generator. Receiptmakerly is an outstanding receipt maker that helps you generate online receipts within a few clicks. Online custom receipts are now commonplace, but you can rely on Receiptmakerly for a smoother generation of customized online receipts. You can download and print the receipts in the process.

With the help of this intelligent app, you will be able to generate Amazon-style receipts, Lyft-style receipts, Walmart-style receipts, Uber-style receipts, and more. Three steps yield receipts with the touch of Receiptmakerly. Choose a stylish receipt template. Change the logo, fonts, text, bill amount, taxes, and other features to personalize the receipt. Save the receipt after that. The receipt is downloadable and printable, and you can send it via email.                                                                                              
Key Features
Generic Simple Receipts with Sales Receipts templates
Receipts are downloadable and printable
Customized fonts with no watermark
50+ pre-made templates
Access to all major currencies around the world

Pricing
Weekly at $4.90
Monthly at $8.90
Yearly at $47
16. Mailbutler.io – Email Productivity for Outlook, Apple Mail and Gmail
Mailbutler is designed for freelancers, team leaders, and professionals of all kinds, Mailbutler offers a full suite of tools to make your inbox smarter.
How Do Features in Mailbutler work?
Mailbutler's features are added directly to your native inbox application, providing additional functionality. Offering everything from Send Later and Undo Send to Optimized Scheduling, Email Tracking, and even an inbuilt CRM option.
Key features
Mailbutler makes progress tracking easier while also providing team members with numerous key features, which are:
Email Tracking
Send Later
Notes & Tasks
Follow-Up Reminders
Contacts Management
Email Templates
Email Signatures
Much More…

Pricing
Essential – Free plan
Professional at $9.95 per user per month
Professional+ at $15.95 per user per month
Business at $37.95 per user per month
(There is a 14-day Free Trial (to try all the features), and if you pay yearly you have 16% savings.)
17. Chisel - #1 Agile Product Management Software
Chisel is a product management startup. It caters to product managers' needs to manage and align the team whenever required. Chisel is your all-in-one solution for product management.
With Chisel, your product manager's duties such as prioritization, team alignment, and customer feedback are taken care of. Try Chisel's free version today!

Key features
Timeline view
Prioritization Matrix
Customer Feedback
Team Alignment
Product Roadmap
Kanban Board
Jira integration

Pricing
Essential: $0
Premium: $79
18. Vmaker - Best Screen Recorder for Video Making

Vmaker is an easy-to-use screen recorder and video editing software. You can record Screen, Webcam, or both to create different types of videos for your business.
With Vmaker, you can create screen recording videos, product demo videos, video presentations, training videos, tutorial videos, video resume, and more. Also, you can use Vmaker to record online meetings, youtube videos, gameplay, and more.

Key features
Record screen & webcam with audio
Record videos up to 4K Ultra HD
No watermark
In-built video editor
Virtual Background for Webcam Overlay
Team Collaboration
Advanced Security
Pricing
Lite: $0
Starter: $7
Teams: $10
Enterprise: Contact for pricing
19. Fyle - AI-Powered Spend Management Software

Fyle is a spend management software that enables you to take control of organization-wide business expenses. It automates your expense management process from end to end while also creating an efficient expense reporting system that can scale as your organization grows.
Fyle's recently launched a real-time spend management solution for SMB cards in the U.S. starting with Visa. This makes Fyle the first spend management solution to offer direct transaction feeds to the user of any Visa-powered credit card from any bank. Any SMB or mid-market company can now access software without changing their cards.

Key Features

Direct transaction feeds for Visa cards (Mastercard coming in soon)
Seamless expense tracking for employees
Automated compliance for approvers
Self-serve integrations with prominent accounting software
Pricing

Standard - $4.99 / active user per month, billed annually
Business - $8.99 / active user per month, billed annually
20. BrandCrowd - Free Logo Maker
All successful businesses have one thing in common - attractive and recognizable logos. However, creating a quality logo is not as simple as it sounds, especially if you don't have experience in designing. Additionally, if you're just starting your business, you may not have the means to hire a graphic designer.

Key Features
Free Logo Maker
Business Card Maker
Facebook and YouTube Cover Maker
Facebook and Instagram Post Maker
Email Signature Maker
Pricing
21. Zonka Feedback - Online Survey Feedback Tool
Zonka Feedback is a real-time insight feedback solution. You can create customized feedback surveys that provide real-time insights with Zonka Feedback. Measuring NPS, CSAT, and CES scores have never been simpler. With integrations such as Slack, Mailchimp, Salesforce, and others, you can also create custom surveys and distribute them via email, SMS, kiosk, or offline.
Key features
Embed questions in surveys, allowing customers to respond within the email.
Share web survey links via email, SMS, and Social Media, print them on your signature, and more.
No WiFi is no problem! Take feedback without WiFi and sync it later.
Hide and Skip Survey Screens based on logic and make surveys intuitive.
40+ ready-to-use templates for all industries, metrics like NPS & CES 2.0.
Get out-of-the-box integrations.
Pricing
Free plan for 15 days.
Essential plan $24/month.
Starter plan $44/month.
Professional plan $79/month.
Growth plan $129/month.
Enterprise plan $629/month.

22. Hostinger - Comprehensive Web Hosting Solution
Your site's speed and reliability depend on your chosen web hosting provider. Hostinger offers a 99.9% uptime guarantee that ensures your site's availability at all times. At $2.99/month, Hostinger's Premium Shared Hosting plan includes a free domain, free monitored SSL certificate, and unlimited bandwidth – which is an excellent choice for small business owners. Once your business starts showing significant traffic growth, you can easily upgrade your hosting plan at any time.

Hostinger has its own control panel – the hPanel. It features an intuitive and minimalist design that allows you to manage your file manager, monitor bandwidth, or install WordPress easily and quickly.  What's more, Hostinger offers a 24/7 support team that will help resolve any concerns or issues related to your website or hosting account.
Key features
99.9% Uptime Guarantee
Intuitive hPanel dashboard
One-Click WordPress Installation
Free SSL
24/7 Customer Support
Pricing
Single Shared Hosting: 50 GB Storage with 100 GB Bandwidth at $1.99 per month
Premium Shared Hosting: 100 GB Storage with Unlimited Bandwidth at $2.99 per month
Business Shared Hosting: 200 GB Storage with Unlimited Bandwidth at $4.99 per month
Cloud Hosting starts at $9.99 per month
WordPress Hosting starts at $1.99 per month
23. Newoldstamp - Email Signature Generator

Email signature marketing can become the driving force behind your business growth by leveling up your emails and helping you to generate quality leads. Solutions like Newoldstamp will provide you with the possibility to engage your audience with every email you send out. Newoldstamp is a leading email signature management platform that comes with advanced signature design options, automated integrations, and the ability to track the performance of different CTAs and banner campaigns, making it ideal for enterprise and medium-sized companies.

This tool offers integrations with Google Workspace (Formerly G Suite), Exchange, and Microsoft 365, so you can easily integrate it with your email client and distribute email signatures across the whole company. Newoldstamp enables businesses to drive extra traffic to their websites or landing pages, upsell products and announce online and offline events by including clickable links, eye-catching banners with CTAs, and interactive buttons in email communication.
Key features
Email signature marketing campaigns;
Email signatures central management;
Google Workspace (Formerly G Suite), Exchange, and Microsoft 365 integration;
Built-in email signature analytics;
Wide range of applications like Marketplaces, CTAs, social media buttons, disclaimers, and more.
Pricing
Newoldstamp comes with a 7–day free trial.
Branding plan – $7 per month (billed yearly).
Marketing plan – $9 per month (billed yearly).
24. FreshBooks - Accounting Software Built for Business Owners and Accountants

FreshBooks is powerful and intuitive accounting software that makes it easy for small businesses to keep track of their finances. With its user-friendly interface, streamlined workflows, and advanced features like automated invoicing, expense tracking, and time-saving reporting tools, Freshbooks allows you to easily manage your books while freeing up more time to focus on growing your business.

Freshbooks has the features and flexibility you need to take your finances to the next level, whether you're just starting out or are an established small business.

You can also download free accounting templates, invoicing templates, balance sheet templates, etc., to easily manage your finances.
Key features
User-friendly interface.
Streamlined workflows
Automated invoicing
Expense tracking
Time-saving reporting tools
Flexible and scalable plans
Pricing
Free Trial - Available
Basic -  $15/month
Plus - $25/month
Premium - $50/month
25. Smith.ai - Virtual Receptionist Services for Small Businesses & SMBs

The first contact with a potential client is by far the most important, but when you're a small business, being available for every call can destroy your daily productivity. Unfortunately, hiring an in-house receptionist is an investment that many small businesses are unable to afford. That's where Smith.ai comes in. They've combined highly-trained virtual receptionists with leading technology to bring you the efficiency of a machine, without sacrificing the personable quality of a real receptionist.

Smith.ai's virtual receptionists help you build better relationships with new and existing customers by professionally answering calls, texts, Facebook messages, and chats, qualifying and intaking new leads, scheduling appointments, collecting payments, and so much more. They can even make outreach calls on your behalf so small businesses like yours can finally have the bandwidth needed to capture and convert more leads, and effectively accelerate growth. With 30+ integrations, including Salesforce, HubSpot, and Calendly, all conversations are synced with the systems small businesses rely on most.
Key features
User-friendly interface.
Streamlined workflows
Automated invoicing
Expense tracking
Time-saving reporting tools
Flexible and scalable plans
Pricing
Starter: 30 calls at $240 per month
Basic: 60 calls $420 per month
Pro: 150 calls at $900 per month
Custom plans available
26. AgencyAnalytics - Client Reporting & SEO Tool for Marketing Agencies

If you're an agency that's looking to save time on your client reporting, AgencyAnalytics is the perfect solution for you. With this platform, connect your client's marketing integrations and automatically generate monthly reports. This way, you can spend less time on manual reporting and more time growing your agency. And because it is built specifically for marketing agencies, they understand the challenges you face when trying to scale. So if you're looking for a growth platform to help you save time and grow your agency the right way, sign up for AgencyAnalytics today.
With over 70 marketing platform integrations, Google Analytics, Google Ads, Facebook Ads, LinkedIn, Stripe, Shopify, and HubSpot, all of your client's marketing metrics are combined into one streamlined interface, saving the tedious hours of cutting and pasting data from multiple platforms.
Key features
Automated reporting
Custom client dashboards
Drag and drop report builder
Full agency white-labeling
Over 70 marketing integrations
Powerful SEO tools
Client & staff management
Pricing
Free 14-day Trial
Freelancer: $12/month per client campaign (minimum of 5 campaigns)
Agency: $18/month per client campaign (minimum of 10 campaigns)
Custom enterprise-level plans are available
27. FlexClip - Best Video Tools for Marketers
FlexClip is an intuitive yet simple video editor that comes with many enhancement features. You will be surprised by this online program to create videos and put them in circulation on social networks because it is free. Even without registering, you can take advantage of this tool that comes with royalty-free resources.

It is ideal for making short videos that will greatly help you promote content related to your business on the main social networks, and you can place your own videos or photographs and even add a voiceover so that everything becomes professional content.

Easy, versatile, and effective, this tool can become your best ally in increasing sales.
Key Features
Various templates for social media campaigns.
Availability of stock images and videos from the editor itself to include them in your creations.
A large number of soundtracks are available to select the appropriate music for your video.
Advanced editor with input and output control of elements, transitions, icons, animations, logos, layer editing, etc.
Pricing
Free plan
The basic plan at $5.99 per month
Plus plan at $9.99 per month
The business plan at $19.99 per month
28. DesignBro - Agency Quality Design

DesignBro is an online tool for creating graphic designs of high quality. With this online tool, a business can aid its branding or rebranding process. At reasonable prices, DesignBro allows you to create professional and attractive logo designs. After the project, you will have the whole ownership of the file.  

With its ease of use the tool is designed to ensure a smooth design-creating process for anyone from a newbie in the market to an established business that has decided to rebrand.  It is an excellent tool to connect professional designers with clients. You can also run contests on the site and work with the designer near you. Your brand will get the touch of the top designers who have worked with companies like Carlsberg, Starbucks, Kiehls, and Havana Club.
Key Features
Hand-picked top 5% of creative designers
Blind design contest
Large designer prize
Unlimited design revisions
Gives access to the digital, web, and printable files
The user has the full copyright of the final project
Money-back guarantee
Pricing
Starter - $249, expect 3 - 5 designs, get guaranteed from 3+ professional designers
Business-  $380, expect 5 - 8 designs, get guaranteed from 5+ professional designers
Pro- $753, expect 10 - 14 designs, get guaranteed from 10+ professional designers
Full Agency- $1500, expect 5 designs from 5 hand-picked designers.
29. DesignMantic —  a clever logo-making tool with 1000s of unique logo templates
Brand identity designs are a tricky concept to get right for designers as well as marketers. While this process starts with the logo, it doesn't end there. To establish a consistent brand identity that reflects core brand character and values, you need to create a logo design that is true to the soul of the brand. Asking a designer to do it can cost a lot of time, and money, and there's a chance they still won't get it right.
With DesignMantic, you can put all these worries to rest. This is an ideal logo design tool for small-scale firms and startups and comes with all the trappings. It has thousands of unique premade logo templates that you can personalize. A rich customization studio where you can make changes to the logo design. Plus, a breezy interface that offers a smooth, frictionless design experience. Honestly, if you can scroll, drag, drop, and click, you can create a logo design in mere minutes.
Additionally, the tool also offers you advanced features, such as a web builder, business card designs, stationery designs, social header designs, and more. If you are ready to launch your business today and only the lack of a logo design is holding you back, DesignMantic is the way for you.
Key Features
The AI-powered logo design process
Smooth and easy UI
Covers major industries
Keyword search availability
Vector-based logos offering instant scalability
Light on the pocket
Quick turnaround time
Unlimited tryouts before you purchase the final logo design
Custom logo design packages
Complete branding including website, business cards, social headers, and more
Pricing
Basic at $37, with a hi-res logo in PDF, JPG, and PNG files
Standard at $57, with Basic offers + business card design
Pro at $97 with Standard offers + letterhead, envelope, and Facebook cover design
Platinum at $197, with complete branding solutions
30. WPLoyalty - Points and Rewards for WooCommerce
WPLoyalty plugin lets you reward and retain customers in an easy and simple way. As the name suggests, the WPLoyalty plugin allows you to target customers and convert them into loyal ones. You can boost sales and generate more revenue in a quick time. You can make your customers feel special by rewarding them for every action they make at your store.
Moreover, WPLoyalty is a well-built plugin for your eCommerce store. It creates a wonderful shopping experience, improves customer satisfaction, and most importantly, keeps you away from competitors' sites.
Key Features:
Reward points for every purchase
Personalized coupons/discounts
Free shipping/products
Create level/badges
Set point expiry
WPML Compatibility
Import/Export customers
Launcher widget
Customize using various conditions
Pricing:
Starter at $99 per year
Professional at $129 per year
Agency at $199 per year
Billdu is an easy-to-use invoicing software for small businesses and freelancers. It
offers you a lot of features like the creation of great-looking invoices, estimates,
purchase orders, delivery notes, and other business documents. The invoicing
the solution saves your time, including online booking, online store creation, and
expense management. Try the top-rated smart invoice app and create invoices in
seconds.
Key Features
Allows you to create unique invoicing templates
Helps you to track and manage your invoices
Let's you accept card payments allowing your clients to pay you right on
the spot
Offers you a basic report about expenses and you can scan your receipts
Sends automatic payment reminders when invoices are overdue
Set up recurring invoices for clients
Pricing
Free plan: 30 day free trial/unlimited/(no credit card required)
Lite plan: $3.99/10 clients/month
Standard plan: $8.99/50 clients/month
Premium  plan: $16.99/unlimited/month
32. Quidlo Timesheets
With Quidlo Timesheets, you can easily track or log tasks however you choose-- whether that's starting and stopping the time tracker, or entering all your hours in one go. This time tracking software allows you to filter your data to get insights into the hours spent on individual projects, members, and tasks. Then share these reports with your team easily - no messy copy-pasting required. And professionals will be able to manage their businesses and projects better with key budget-setting insights that Quidlo offers. So make sure time management is done right with Quidlo Timesheets!
Key features
Intuitive time tracker
Detailed time reports
Projects, users, and roles for better navigation
Pricing
Free trial is available, and paid plans start from $29 a month.
33. Timetastic
Timetastic is a comprehensive time-off management software that will simplify and transform your company's leave management process,  making booking time off work a breeze.
No more dealing with paper forms and updating messy spreadsheets. You get a central, up-to-date record of absences, so you can plan better, and work smarter. It also provides an easy way for your team to put in their sick-leave notice, so you don't have to worry about updating your company calendar or their individual sick leave balance. You can group your staff into departments, allocate one boss to manage the whole team, set minimum staffing levels, and see clashes before approving requests for time off.
The best part is, that Timetastic also has a mobile app so everyone in the team can manage and track time-off balance on the go.
Key features:
Up-to-date tracking on your team's sick leave (as well as other leave types).
Two ways to share sick leave information with your payroll department.
Public holidays from over 3,000 regions are supported in Timetastic. From the UK to the USA, Afghanistan to Zimbabwe, we've got you covered
Pricing:
Business - $1.30 (per user per month)
Pro - $2.50  (per user per month)
34. ClientVenue
Clientvenue is the best Ad agency project software that helps businesses streamline their client management processes and improve communication. With its user-friendly interface, businesses can easily keep track of their client interactions, projects, and progress. Additionally, it features advanced tools for managing leads and proposals, as well as for creating and managing campaigns. Whether you're a small business or a large agency, ClientVenue is the best choice for managing your client relationships and growing your business.
Key Features:
Robust project management tools
Detailed analytics and reporting
Comprehensive client communication capabilities
Real-time progress monitoring
Deadline and milestone tracking
Data-driven decision making
Flexible pricing plans for agencies of all sizes.

Pricing:
14-day free trial with no commitment required
Two package options: Professional and Enterprise
Monthly billing:
Professional package: $25/month
Enterprise package: $40/month
Annual billing:
Professional package: $12/month
Enterprise package: $20/month
Two additional months of free usage with an annual billing option