Facebook Group Rules: A Detailed Guide with Examples
Know the benefits and the process of adding Facebook group rules. Set the rules and keep your group safe.
After creating your Facebook Group, the most important thing you should take care of is adding your Facebook group rules.
Before establishing any idea or rules, just for the primary idea, try to have a general discussion with your team members and the existing group members. They will be giving you a preliminary idea about what kind of Group they want to see!
Detailed rules go hand in hand with meaningful, high-quality conversations. This also cuts down on general confusion and questions as you can point members to your established rules. It is better to encourage members to read others' posts or comments to see if their questions have been previously answered.
Establish your rules and enforce them. Your Group should be a safe, welcoming place for members to engage.
What Is the Importance of Facebook Group Rules?
A Facebook Group, like any other community or organization, has rules in order to run properly. Having a system of preset standards of behavior means being able to keep order in a community. They are also present to ensure that every member feels welcome and encouraged to contribute their thoughts, start a debate, or ask a question.
Aside from the usual reasons why a community requires a set of rules to function, Facebook Group rules provide some additional benefits. Let's take a closer look at this.
1. Growing the group towards its purpose
You have created a Facebook group with a purpose, right?  With Facebook group description you can inform the member or the potential members to know why the group is for. And the rules of your group will help you grow the group in the right direction.
2.  Keeping the group spam-free
Facebook group rules help to keep the group safe and secure. These give you the prime authority to remove or block anyone from the Facebook group for unusual activities. Once you remove any post from the group.
3. Acquainting members with Dos and Don'ts
Once new members want to join your Facebook group, you get the scope to take consent from them whether they have read the group rules or not. Potential members need to put a tick mark if they have read and agreed to the rules.

How to set rules in Facebook group
It's pretty easy to set rules in the Facebook Group. There are some templates of general rules. If you want, you can use those, or you may customize them according to your expectations. The process of setting rules is shown in some simple steps.
Step 1:
Go to the Group Rules section in the Facebook group dashboard.
Step 2:
Now, click on Create, and you will be able to use the customized rules, or you can create on your own.
Step 3:
Customize the rule and click on Create. Following the same process, you will be able to create multiple rules for your Facebook group.
Step 4:
After clicking on the create button a new Facebook group rule has been created shown below.

How to change rules in a Facebook Group
Select your group from the left menu of your News Feed by clicking Groups.
In the left menu, under the Menu bar, click Group Rules and then select Edit rule or Delete rule from the drop-down menu to the right of the rule.
How to tag a Facebook Group rule as a post
By tagging one or more rules in a post, group admins can remind members of the group's rules.
Click 'Write something...' if you want to tag a rule in a post. or Create a public post.
Type @, then click the rule or rules you want to tag in the post.
How to pin rules in a Facebook Group
➤ To pin the rules in your Facebook group, click "Add" in the Featured section of your group. You can also keep other posts pinned in the Facebook group.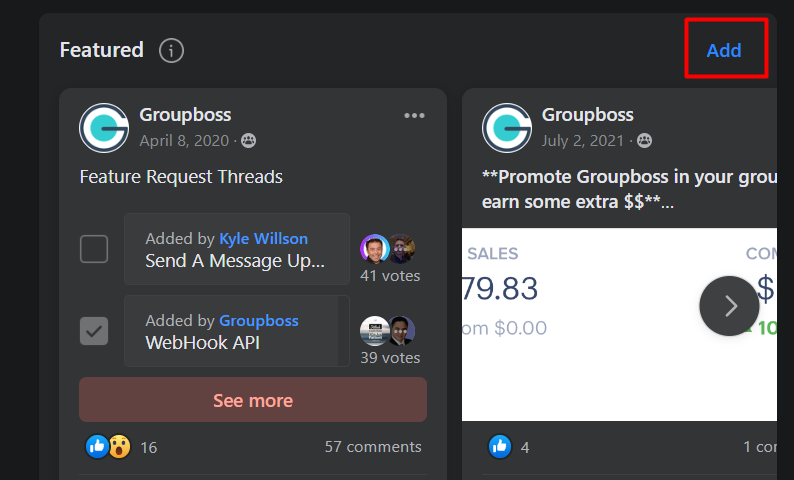 ➤ Now, click on the Pin icon beside Rules. Your Facebook group rules will be added to the featured section and will remain pinned.
Do you know?
You can now generate leads from your Facebook group by saving the facebook group membership questions? And, Groupboss makes it automated for you.
Facebook Group Rules Examples
Some of the rules will be unique to you and the members of your community, depending on the product, service, or group that you run. As an alternative, the following is a set of example rules that have been provided by Facebook and are adaptable to any Facebook Group.
You can add any of these sample Facebook group rules that apply to your group.
Group Rules For General Facebook Groups

1. Be Kind and Courteous
We're all in this together to create a welcoming environment. Let's treat everyone with respect. Healthy debates are natural, but kindness is required.
2. No Hate Speech or Bullying
Make sure everyone feels safe. Bullying of any kind isn't allowed, and degrading comments about things like race, religion, culture, sexual orientation, gender or identity will not be tolerated.
3. No Spam
Give more to this group than you take. Self-promotion, spam, and irrelevant links aren't allowed.
4. Respect Everyone's Privacy
Being part of this group requires mutual trust. Authentic, expressive discussions make groups great, but may also be sensitive and private. What's shared in the group should stay in the group.
5. Blog Links, Recipe Links Only in Comments
If you want to increase traffic to your blog by wanting our members to visit. Do it in a manner that looks aesthetic, share the link in the comments and a pic with a description in the main post.
Group Rules For Buy and Sell Facebook Groups
1. Link Sharing is Not Allowed in the Group
No links are allowed in this group. Be it a WhatsApp group link, Facebook group link, Facebook page link, or YouTube link. If any member breaks the rule, their post will not be approved.
2. Misbehaving is not allowed
Misbehaviour of any kind will not be tolerated in the group. If a member is found misbehaving with admins or with members, they will be removed from the group without any warning.
3. No Price War
No seller will be allowed to hamper the business of other sellers by stating their products are priced comparatively less. If anyone is found doing this, they will be chucked out from the group.
4. This is a Paid Group
This is a paid group for sellers and service providers. If you would like to promote your business, please get in touch with the admin to enquire about packages. Please note that we have a NO REFUND POLICY.
5. All the Sellers are Verified and 100% Genuine
We verify each and every seller and have their ID proofs with us. Hence, there is no scope for fraud in this group. All buyers can enjoy a safe shopping experience.
6. Team Building Not Allowed
Team building of members of a particular brand (like Oriflame, Vestige, Modicare, etc.) will not be allowed in the group.
7. Post Approval Timing
Posts will be approved from 10 AM to 10 PM only. After that, no posts will be allowed.
8. Posting Format
Posts shared from the Facebook pages, groups, WhatsApp, and timelines will not be allowed.
10. Covid 19 Alert
No posts related to Covid 19 products will be allowed in the group.
FAQs to Facebook group rules
1. How many rules I can add to my Facebook group?
Answer: You can add a maximum of 10 rules to your Facebook group.
2. What is the character limit of the title of the group rule?
Answer: You need the write the title of the rule within 50 characters.
3. How many words can I add to the description of the rules?
The maximum word limit for the description of the Facebook group rules is 500. That means you need to write the description within 500 words
4. How do I ask new members to agree to group rules?
You have got the option to add three Facebook group membership questions. At the end of the questions, you will find the option to Ask people to agree to group rules. Just make this option ON.


Concluding Remarks
Keep in mind that a Facebook group has the ability to help you expand your business and promote your product or service to the appropriate audience. You only need to know how to manage it properly. A set of clear, simple, and relevant Facebook group rules is an excellent starting point. Developing defined rules facilitates the formation of your Group's culture and prevents member conflicts.
Generate unlimited leads with Groupboss from Facebook group membership questions.
Last Updated: 4 May 2023