Facebook Group Invites: All You Need to Know in 2023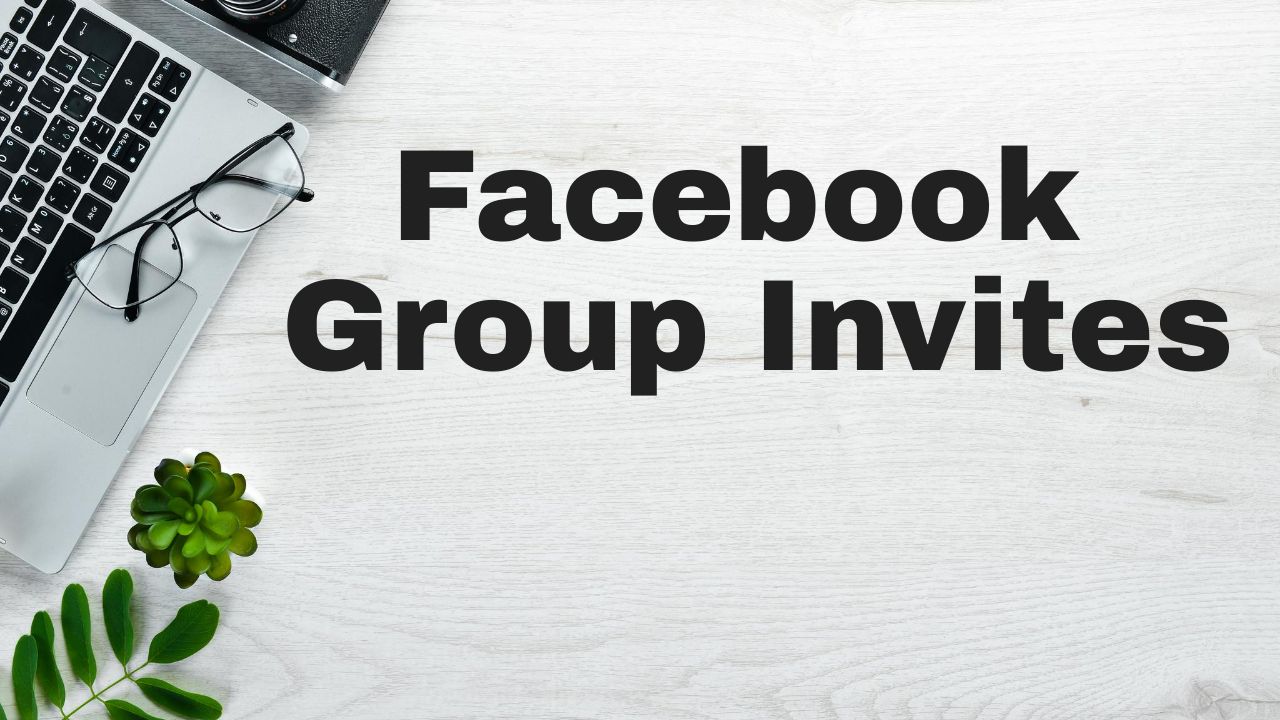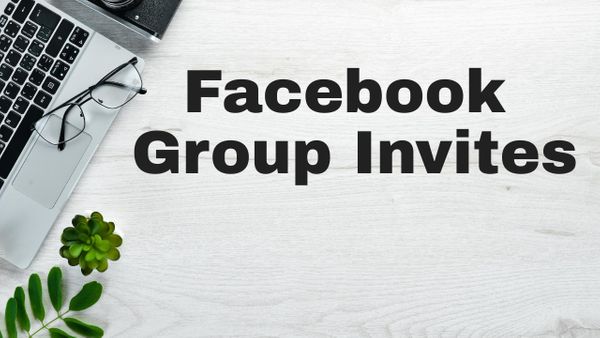 The boundless potential of Facebook Groups, especially in terms of marketing opportunities, meaningful engagement, and essential contact between members and their group leaders, is swiftly agreed upon by both group admins and members.
Knowing and understanding the "Facebook Group Invites" procedure is critical, both as a group member and, more crucially, as a group admin.
The most straightforward way to expand any Facebook Group is to invite your Facebook friends to join. It's not even necessary to have a Facebook page to achieve this !!!

Let's get started by going ahead & all we need to know about Facebook Group Invites.
What are Facebook group invites and how do they work?
You can invite anyone you know to a Facebook Group, public or private. This allows them to preview the group before joining it.
So, how do group invites work, and do they aid in expanding group membership?

Facebook considers it a useful tool for group owners to expand their network. We'll go over how Facebook Group Invites operate and how to set them up in a few simple steps. Uses of Facebook group categories at a glance will give a clear idea about which group you will choose or not.
Any member of a Facebook group has the option to leave the group at any time. The invited person would receive a notification in preview mode for 28 days if the group owner or admin accepted the invitation. The preview mode will be extended for another 28 days if the newly approved member interacts with the group through comments and posts; otherwise, the preview mode will expire.

How Facebook group invites work on the desktop.
There are a few ways to invite new members to a Facebook group. If you are using a Facebook group from a desktop or laptop, the following ways will help you to invite members to your group.

Invite the people from your friend list:
By selecting Invite from the group, admins and members can invite their Facebook friends to join the group.
So, here's how to invite your Facebook friends to a group from your desktop:

1. Invite your friends to join the Facebook group you want to grow.
2. On the front page of the Facebook group, you'll notice a blue 'Invite' button; click it.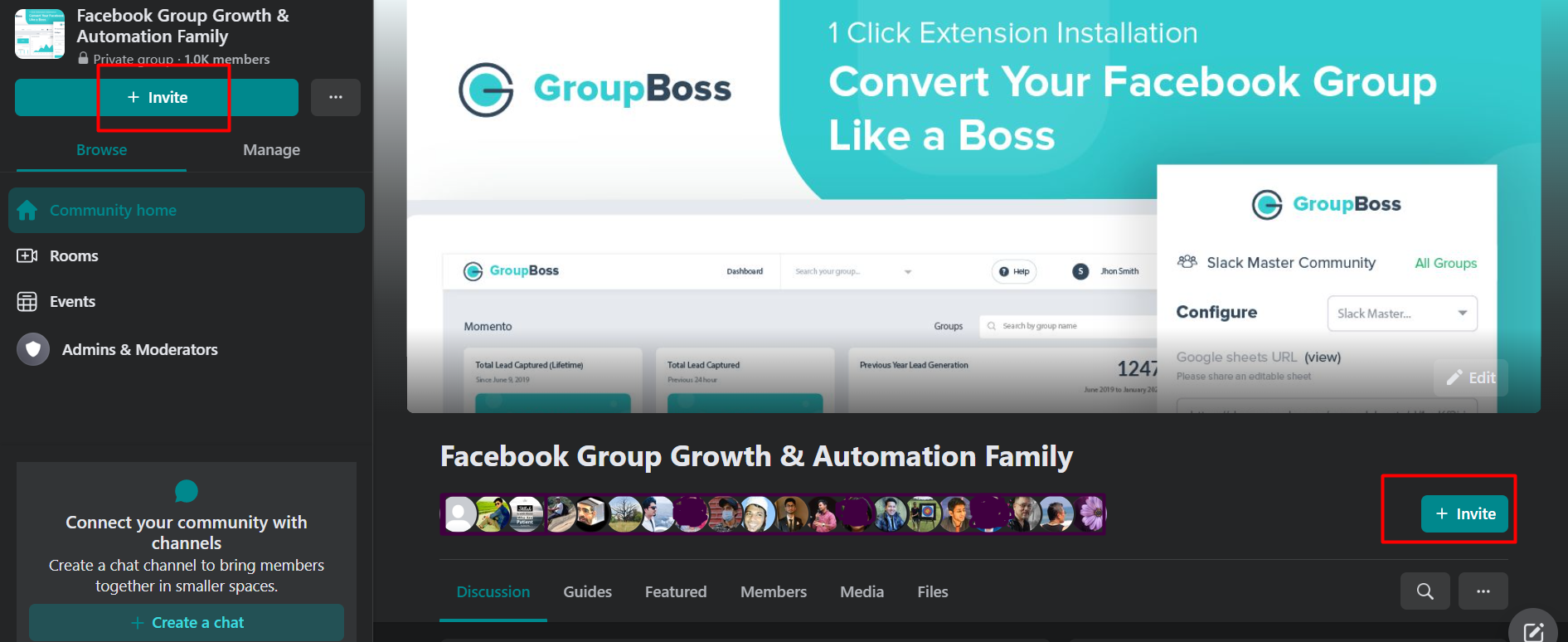 3. You'll be able to choose each of your Facebook friends individually. You can also narrow down your Facebook friends by former work, education, and other factors. Select the people you'd want to invite, then click the 'Send Invites' option in the bottom right corner.

Email invitation:
Admins can invite anyone to join their group by email, regardless of whether or not they are Facebook friends. Only one email invitation can be sent at a time & the email-id must be linked to a Facebook account.

Invite using a link
If the group is a secret private group, admins and members can use a link to invite anyone to join, whether or not they are Facebook friends if the admins allow it. You can do it for your other Public or Private Facebook groups.
Just copy the link in the URL and share it with your friends, in your profile, or any other platforms.  You can also customize Facebook Group link to make it more appealing.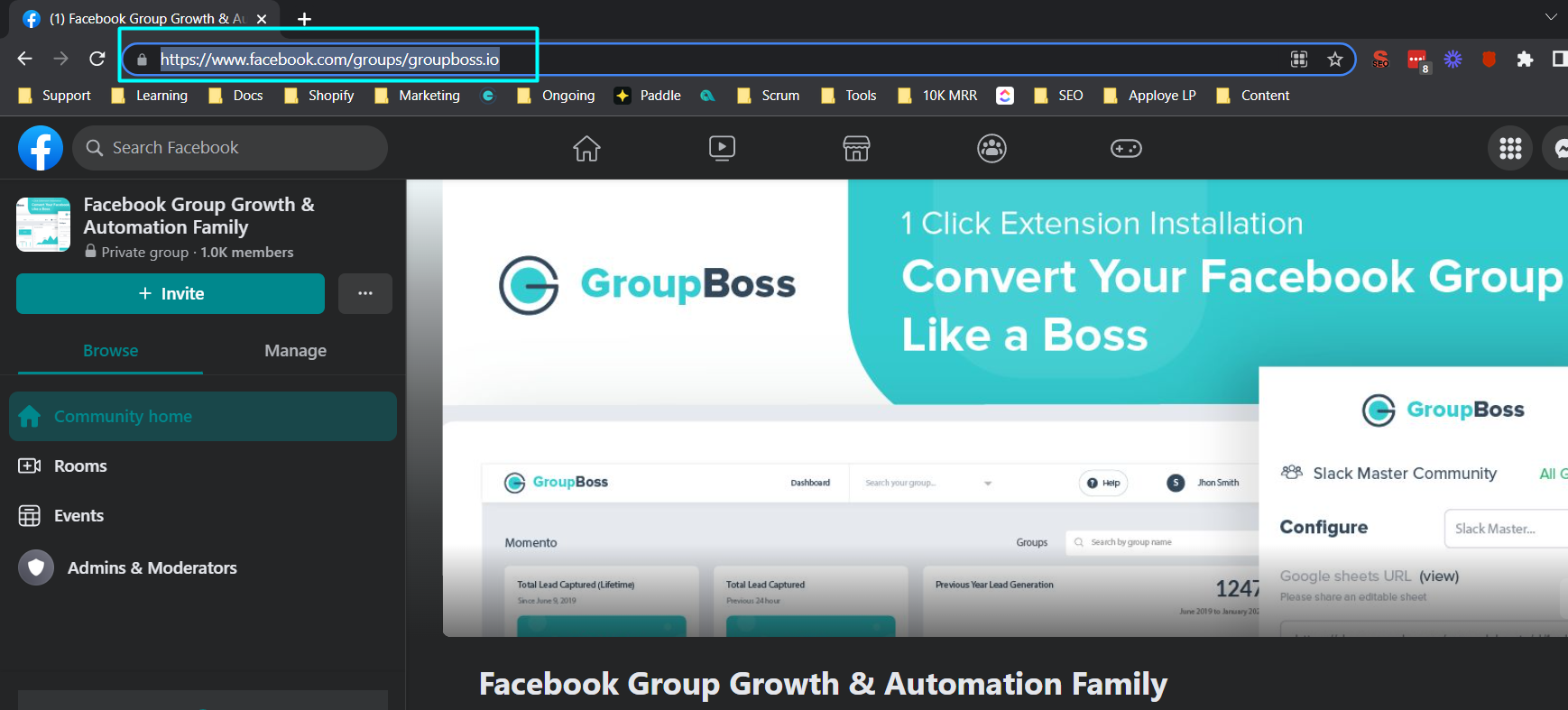 Invite via QR code:
You can generate a QR code that will direct people to your group when scanned. "Admins can only access the group QR code from a computer."
Group admins can share a QR code to help others easily find their group. Anyone who scans the QR code will see the group's About page and can then request to join or participate.

How Facebook group invites work on the mobile app.

On the front page of your Facebook group, you'll notice a blue 'Invite' button; click it.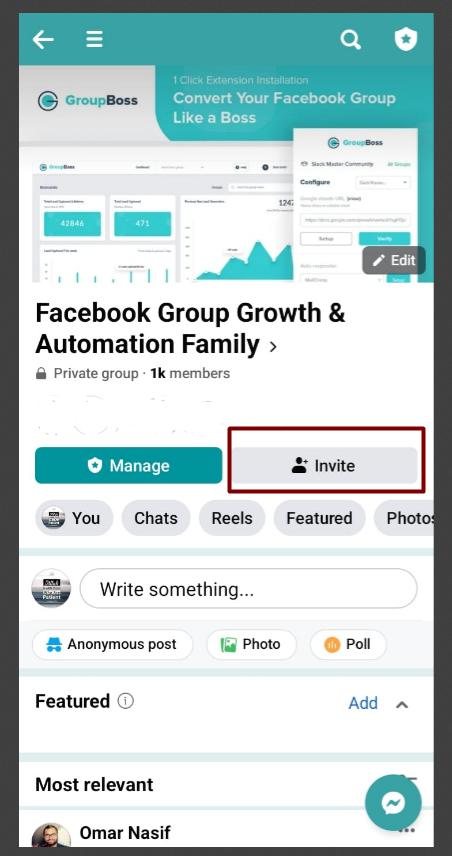 2. Click on the Invite button beside the profile names of those you want to invite to your group.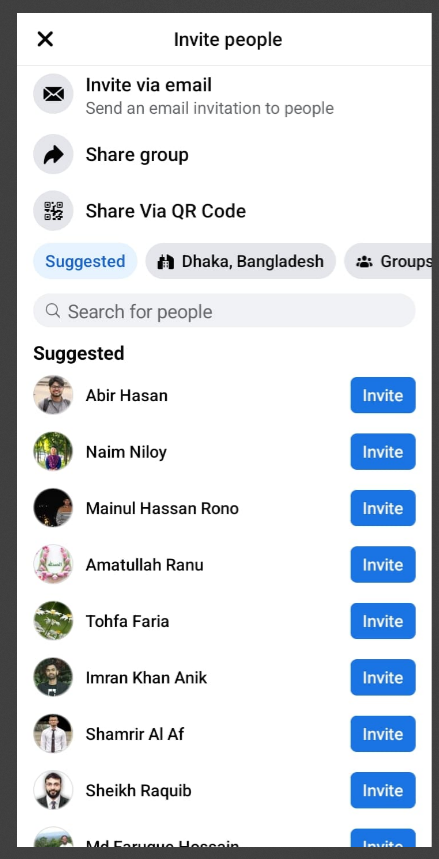 3.  You can also invite members to your group through other available options like
- Invite via email
- Invite with QR code.
- Share group. Under this option, you can adopt the following.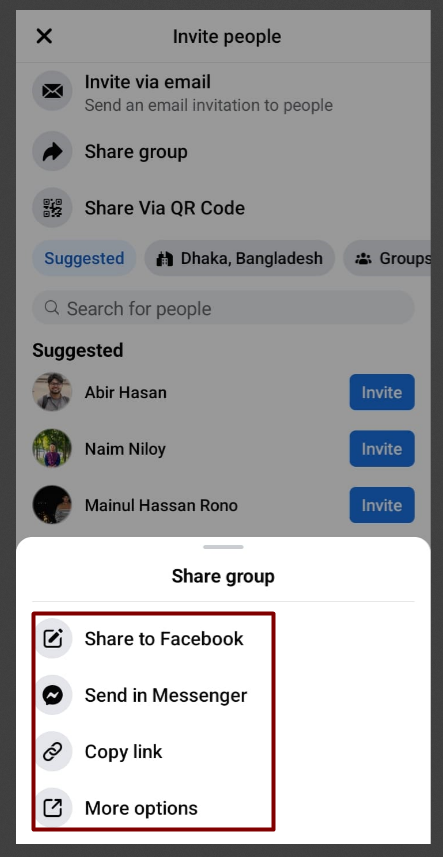 How to see Facebook Group Invites on desktop
So far we have seen the different ways of inviting someone to Facebook groups from desktop or mobile apps.
Let's see how the invitees see the Facebook group invites.
In Facebook
When you invite someone to a Facebook group, the invitation must be authorized by a group member, admin, or moderator before sending it to the individual. That person will receive an invitation notification and will be able to choose whether or not to join the group.
So, the invitee has got both options to join or decline the invitation.
Facebook group invites in email
Once someone is invited through email, the user will get a notification in the email inbox with the group link and the custom message. Users get two options such as Join Group and View Group.
These invitations look the same in the Facebook mobile app or Gmail account on mobile. So, you can easily find the invites and join the group.


How to find Facebook Group Invites on mobile?
Facebook group invites are tricky if you miss the notification. If you use the search box to discover the group, your invitation will display at the top for you to accept.

1. From the Facebook app on your phone, go to the group by clicking on the group icon.
2. The missed invites to groups on Facebook will be available from group settings.

3. Click on "Invites" to have a detailed view of the group invites.
What happens when someone is invited to a Facebook group?
When group members or admin invite someone to join, they can use their name or email address.
On the other hand, when group owners and admins invite someone to a group, that individual is automatically added to the group and is not given the welcome questions.
During this decision-making period, also known as preview mode, the individual can read group posts in their News Feed but cannot comment or post on other people's posts or invite others to the group. Other group members can see on the members' list that this person is previewing.

Frequently asked questions(FAQs) related to Facebook group invites.

Q: Can I send a message inviting someone to join a Facebook group?

Answer: Unlike LinkedIn, for example, you cannot send an invitee a message. It would be ideal if you could explain to your friend why you sent them the invite, but that is not currently possible. Of course, you could simply message them and inform them of the reason for their invitation to the group.
However, there is a default message in case you are inviting through email.

Q: Can I invite the same member both with a Facebook profile and email?
Answer: Yes, you can do that. It will be a better idea to invite in both ways if you have the email address.

Q: How many members can I invite to my Facebook group?
Answer: At the moment, the maximum number of people a person can invite to a group is 50 Facebook Group Invites each day. Some group owners connect their Facebook page and group so that it is easy to welcome individuals to the group when they like their pages.

Collect leads from a Facebook group and use those to invite to other groups.
When a new member joins your Facebook group, you can ask them three membership screening questions. Groupboss is responsible for gathering all responses, including emails. You may then use it to generate leads and invite them to the new groups you are creating.

With Groupboss, you may reduce advertising expenditures while reaching the greatest number of people possible with your expertise.
TheWebAppMarket praises Groupboss, a fantastic program for turning your Facebook group into an income-generating machine.
Final Thoughts

Starting and expanding a Facebook group may appear difficult, and group owners may feel overwhelmed and as if they are fighting an uphill battle. With Facebook group invites it becomes easy to grow the community within a short time.
Written By
Sami Sadith
Sami is a content writer & loves to read. He enjoys writing about topics such as productivity, viral marketing, and growth hacking. Allowing himself to create his unique visual style, but still allowing people to recognize it.